Facts You Never Knew About Aws Winter Training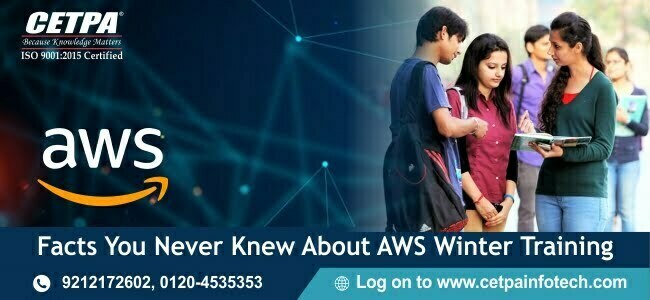 Amazon Web Services (AWS) is the Amazon subsidiary that offers the great suite of infrastructure & application services that enable you to run everything in the cloud – from business applications to big data projects and mobile applications.
AWS is the pioneer in the market, with customers expanded over nearly every country throughout the world, and a large share of the Infrastructure as a Service (IaaS) market. In this article, we'll we will discuss some of the facts you should know about AWS.
Facts You Never Knew About Online AWS Training:
1. Worldwide Reach of AWS
AWS has an active customer base of around 190 countries, and over a million active customers – consisting of nearly 5,000 education institutions, 2,000 government agencies, and more than 17,500 non-profits. Currently, more than one-third of all Internet users visit a site or application powered by AWS. AWS data centers are located in Europe, U.S., Brazil, Japan, Singapore, and Australia. Amazon levels up capacity by adding new data centers – with the idea that customers are architecting their applications for local data protection.
Must read Now: The Complete Guidance to Understanding AWS
 2. AWS is Inexpensive
Over the last several years, the price of AWS has been plunging. You need to know that the cost you pay for the cloud compromises of various components. Users usually try to multiply the price of instances by the number of hours used. Sadly, doing this does not provide you with a notion of how much the service charges. To grasp, how much you cloud will cost you, you should compute not only the price of cloud computing itself but also the cost of internet traffic and storage.
3. Top MNCs are using AWS
Big, successful companies, including Quora, Foursquare, Netflix, Airbnb, Dropbox, Zynga, Reddit, and others, have already been using Amazon's cloud services for quite a while. By the way, Instagram also uses AWS.
For those who are still considering the pros and cons, our advice is: join AWS winter training classes in Noida as soon as possible; there is no point in waiting.
 4. You can pay ten times less for the same AWS resources
If used perfectly, AWS can offer you significant computing resources at a much cheaper cost than it may appear at first glance. For instance, if you purchase a Reserved Instance as a base node (or a base set of nodes) and use the correct type of architecture that will allow your application to process tasks using Spot Instances, the cost of cloud ownership can be diminished drastically.
CONCLUSION
As AWS advances to innovate and develop, their do-it-yourself approach with pre-defined customer-friendly packages has considerably simplified the time spent on deploying servers and controlling them remotely With the global market for cloud computing anticipated to grow in the next 10 years, it is the best time to join Cetpa Infotech for AWS Online Training & Certification in Noida to take benefit of the vast opportunities ahead of them for the next several years and beyond.