Here Is How You Can Enhance Your Career With Azure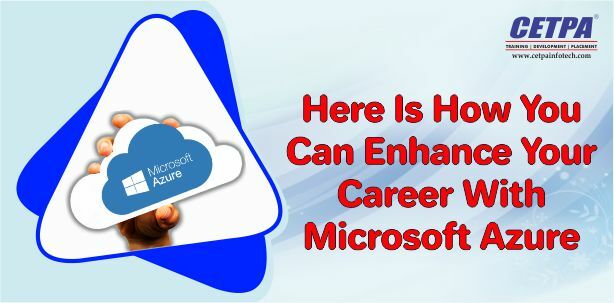 Who can manage without data nowadays? It's exceptionally hard to handle business without data storage. And in this day and age, it's not about tangible files and folders as there are many new ways to store data, all thanks to technological advancements.
As a result, many organizations have now migrated to cloud storage solutions for they are more effective, safe, and secure than the traditional methods of storage. Cloud storage solutions are accessed through the internet and have entirely changed the way business organizations manage their data.
Furthermore, Microsoft Azure is one of the major cloud service providers dominating the market as of this moment. In this content, we will cover the advantages and disadvantages of Microsoft Azure and how it can enhance your career prospects. So, if you have been wanting to enroll in an online Microsoft Azure training course, now is the time.
What is Azure?
Microsoft Azure, popularly known as Azure, is essentially a cloud computing solution created by Microsoft for the purpose of testing, building, deploying, as well as managing applications and services with the help of Microsoft-managed data centers. It also helps in development, service hosting, service management, and, most importantly, storing data. It is highly flexible, simple, and scalable as well.
What are the Advantages of Microsoft Azure?
● Microsoft Azure is fully scalable and also offers open access across numerous languages, tools, as well as frameworks.
● Unlike other cloud computing platforms, the Microsoft Azure cloud offers high availability and redundancy in data centers all over the globe.
● Microsoft Azure offers Virtual Network (VNET) which allows the user to create isolated networks as well as route tables, private IP address ranges, and gateways.
● Azure comprises one-click migrations, which makes it a very simple and easy cloud computing platform. Moreover, it also has hybrid cloud support, a feature that other cloud computing providers cannot offer.
● Microsoft Azure provides support for mixed Linux/Windows environments and also provides inbuilt tools that help the organization deliver Azure service from its own data center. For instance Azure Stack.
What are the Disadvantages of Microsoft Azure?
● Microsoft Azure does not manage your cloud-based data center, so you will require boots on the ground that know how to use Azure, including monitoring and patching.
● The services that Microsoft Azure offers consist of numerous glitches and you will need to spend money out of your pocket to get the aforementioned fixed.
● If you're using Microsoft Azure, speed may be an issue because pace is going to be slow if there isn't a close region around.
Also Read: How To Learn Microsoft Azure: The Skills You Need To Master
So How Does Microsoft Azure Enhance Your Career Prospects?
Believe it or not, acquiring a Microsoft Azure certification is bound to make you stand out from the rest of the candidates. Furthermore, it will also help you develop your career. Becoming skilled in Microsoft Azure leads to promotions, as well as additional responsibilities. However, it also guarantees an increased salary.
Employers tend to value, appreciate and recognize the certification, as it shows that you're skilled in a well-recognized domain. It also reflects your commitment towards your field as well as your career.
You can also work from home as these services are built precisely for people who are working remotely and sharing information across various locations.
So now is the best time to learn Microsoft Azure. CETPA is offering a Microsoft Azure training program. Our online Microsoft Azure training program covers all the important aspects of Azure. Moreover, our online Microsoft Azure training course in Noida includes basic as well as advanced concepts of Azure. CETPA is the best Microsoft Azure training institute in Noida. So we Will provide you with the finest Microsoft Azure Summer Training.