SAP vs Salesforce: Which One Is Better To Learn?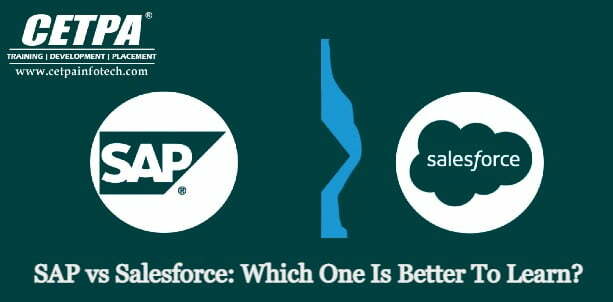 At this point, we simply cannot deny the fact that the world of technology has been expanding faster than ever. With each passing day, new technologies kick in with advanced features like improved security, scalability, strength etc. And so, businesses have to adapt and move with the times.
As a result, organizations are taking a break from the traditional methods of operations, and are opting for the things that the tech sector is offering. Companies need to source data, generate sales, follow-ups, identify prospects, as well as close deals. And all of these can be managed by CRM software.
Customer Relationship Management software possesses the ability to store data, communicate with prospects and can also guide you during the sales process. It is believed that CRM softwares are able to generate better business revenues, finalize profitable deals, and hence are exceptionally critical for the success of the organization.
Ideally, a CRM software has to cover four crucial aspects of the business. These are Sales Force Automation (SFA), customer service and support, digital commerce and last but not the least marketing automation.
Consequently, Salesforce and SAP are the two major players in the market that are providing the CRM systems to the customers. But what's the difference between the two? Which one is better? It's time to finally address these questions. Furthermore, our online Salesforce training course in Noida includes basic as well as advanced concepts of Salesforce.
What is SAP?
SAP is short for Systems, Applications and Product and is one of the most famous ERP Software and CRM solution. With the acquisition of technologies, including Hybrid, Gigya, and CallidusCloud, SAP has created a next-generation CRM software that is not confined to sales anymore, instead focuses on improving the Customer Experience. SAP's CRM software smoothly amalgamates with their S/4HANA ERP software. Hence, it is the best option for SMEs and large enterprises.
What is Salesforce?
Salesforce is essentially a Software as a Service (Saas), which means that it does not require to be installed in order to be operated. This is so because users can simply go to Salesforce.com, sign up and can start running the business immediately.
Moreover, Salesforce is currently dominating the CRM market as it has been for years. Hence, it offers a tough competition to all the other CRM brands in the market.
So What's the difference?
Although both Salesforce and SAP provide similar features, SAP goes a level up as it can integrate better with the ERP system, especially when compared to Salesforce. However, Salesforce provides easy usability, better configuration solutions and has a more effective user interface.
Also Read: Boost Your Career With Salesforce Certification Now!
Salesforce is confined to CRM solutions only, whereas SAP offers a variety of other industrial products.
Both provide efficient customer support, but Salesforce also creates a huge end-user community which shares ideas and supports other users too. This is precisely why Salesforce is so popular in the CRM world.
Salesforce also offers various customization tools for its CRM application like Salesforce Lightning application development tools which is very beneficial for end users who know how to develop an application to employ on their own.
When it comes to which one of these is more cost effective, Salesforce wins, as SAP is not as cost effective. Salesforce starts at 25 dollars whereas SAP starts from 75 dollars.
Both of these are really interesting, so it entirely depends on your interest and requirement. CETPA is offering training programs for both technologies. Our online SAP covers all the important concepts of SAP. Our SAP training program covers all the important aspects of SAP. Moreover, the online SAP training course in Noida includes basic as well as advanced concepts of it.
CETPA is the best Salesforce training institute in Noida. So we will provide you with the finest Salesforce training, which saves your time and money.