WHAT ARE THE FUTURE SCOPES AND CAREER OPPORTUNITIES FOR SAP?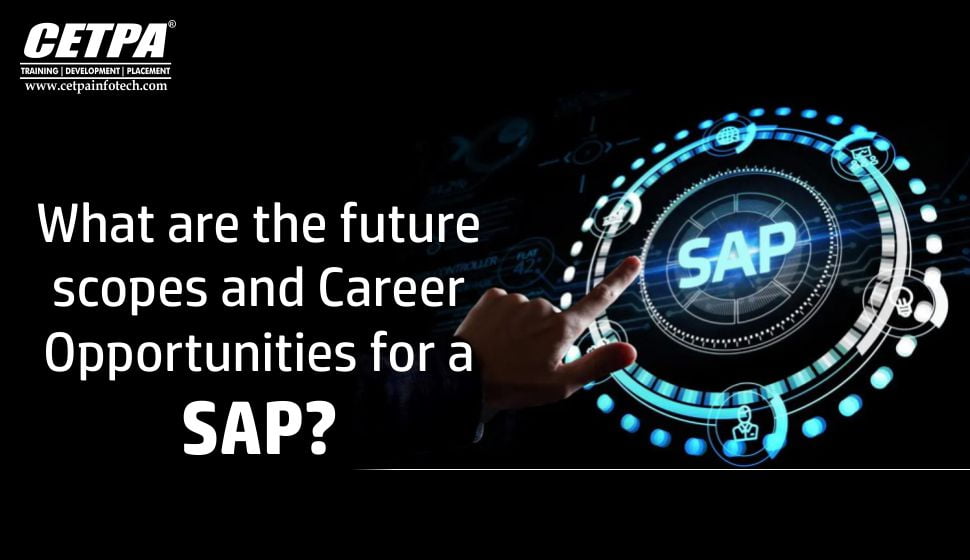 Heard of before or explored opportunities with SAP? Let us explore together. Founded in 1972, the company was initially called System Analysis Program Development, which later shortened to SAP, was founded in 1972. From a small Start-up of five, it has propagated to a multinational business, having its headquarters in Wall Dorf, Germany, and more than 105,000 employees globally. Why not understand about the future scopes and opportunities after SAP training?
FUTURE SCOPES AND CAREER OPPORTUNITIES FOR SAP
We, hereby see how vast the organization has spread at an international level. This denotes that with such an expansion, career opportunities with SAP have also increased. The technology which was once considered to be new has now changed into an emerging and trending one.
SAP, the most involved ERP programming on demand, is an asset to the industry. It comprises several completely integrated modules which cover almost every part of the business administrators. Furthermore, the utilization of SAP training makes an integrated framework for businesses that authorizes each office to access and share information so that a superior workplace for each worker can be established. SAP Training in Noida assists you in selecting an amazing career and imparts the best knowledge toward your career goals in trending technology.
Modules of SAP
In the broader sense, SAP has two modules namely, technical and functional. You need to choose any one of these. While selecting the Module for yourself, you must focus on your Academic background and choose to keep in mind how it is going to help you build your career. SAP Training in Delhi aids in finding your career objective and thus the selection of Modules from the whole list available.
SAP Technical Modules:
SAP Technical Modules are used at the back end of an SAP environment and assist in maintaining and fine-tuning your settings, building applications, troubleshooting, downloading & installing updates, and planning & carrying out migrations. These include:
SAP HRM or HR: Human Resource Management, also known as Human Resource
SAP PP: Production Planning
SAP MM: Material Management
SAP FSCM: Financial Supply Chain Management
SAP SD: Sales and Distribution
SAP PS: Project System
SAP FICO: Financial Accounting and Controlling
SAP PM: Plant Maintenance
SAP QM: Quality Management
SAP Functional Modules: SAP Functional Modules comprise business attributes like processing orders, modifying raw data into information, and managing human resources. The list goes:
SAP Security
SAP Basis
SAP ABAP: Advanced Business Application Programming
SAP HANA: High-Performance Analytic Appliance
SAP NetWeaver
SAP IS: Information Systems Management
SAP CRM: Customer Relationship Management
SAP XI: Exchange Infrastructure
SAP Solution Manager
Although, `SAP Course in Delhi makes it easier for you to consider an SAP Module for prospects by guiding you through the following factors:
Career Opportunities in the Module
Academic background, and your work experience (if any)
Your Life/Career Goals
Moreover, when you look forward to selecting an SAP Module for yourself, you must consider your inclination and passion toward Career Prospects in SAP. If the answer is a "YES', you must choose one, and then there is no looking back with such an amazing prospect in hand. SAP Course in Noida covers all the Modules and you can select and get trained in the best which suits your purpose.
Read Also: Take Your Business to New Heights With High-Rated SAP Modules
CONCLUSION
SAP Online Training is also the best option available for candidates who find it difficult to commute and stay over in Delhi-NCR to pursue their training. In fact, SAP Online Course, just like the Classroom-Training, proves fruitful for those sincere in building a great career ahead, but have limited resources. So, just do not wait. What are you waiting for, pick up your phone, and book a call with us. We will guide and train you toward a bright career ahead.