Advantages Of SAP Certification And It Is A Good For Your Career?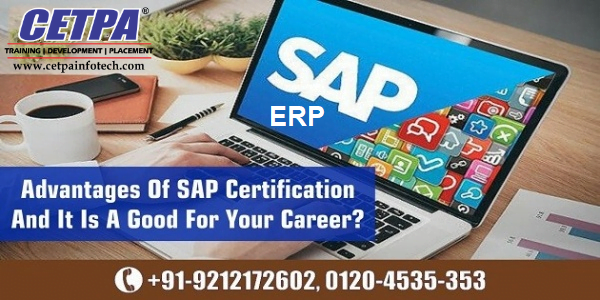 Enterprise resource planning (ERP) software is the core of businesses across a wide range of enterprises. It is amongst the most extensively used ERP systems in the world. Understanding SAP's features and services have become a crucial skill in today's world. Developing SAP skills can assist you in preparing for a job with a company that uses this software.SAP online training refers to System, application, and product.
SAP software solutions are effective tools for helping businesses manage their finances, human resources, logistics, and other aspects of their operations. The SAP ERP system, which is the most powerful Enterprise Resource Planning (ERP) system currently available, is the backbone of SAP's software portfolio. It has grown to provide application software to handle sophisticated business activities.
Advantages of SAP certification:-
SAP course is one of the most demanding certifications in today's corporate world. IT workers that are well known with SAP training platforms are in high demand all over the world, and it has recently grown as one of the most famous IT certifications. Online  SAP course deployment is a complex procedure that demands extensive expertise and training. It takes years of experience for a specialist to achieve enough knowledge. This is also why modern firms are on the lookout for SAP-certified employees.
● Job
The key motivation for students to pursue SAP certification is to uplift their careers. Using their SAP certification, several candidates have been able to grow in their careers. It is now acknowledged by all major companies, and it may help anyone to uplift their profession. As the demand for qualified professionals grows, so do the opportunities available to them.
Also Read: Think To Master In Sap Hana? Here Are Some Major Key Points For You
● Respect and Responsibility
Better salary and a better role are closely linked to improved reputation and acknowledgment among peers, coworkers, and clients. This can even serve as a motivator to help people do better at work and earn higher pay. Certification will help SAP online training professionals to stand out. The accreditation can be utilized in conjunction with the names, making a significant impression on recruiters and employers.
● Easily obtains promotion
As previously stated, its certification courses assist professionals in climbing the success ladder more quickly. In respect of subject expertise and knowledge, they have a demonstrable advantage over their non-certified peers. As a result, they have a better chance of receiving financial rewards and promotions.
● It's All About the Money
SAP-certified professionals get paid more than those who do not have a certification. Its consultants start with a much greater salary than those who do not have a certification. The average wage is determined by a variety of criteria, including the applicant's level of experience, company type, academic level, and industry. Professionals with at least four years of experience may expect to earn between $47,200 and $79,100 on average.
Its systems are being used to identify both big and small organizations. It is one of the most beneficial ERP platforms for bettering the overall operation of a corporation. An SAP certification allows an expert to start preparing for the growing complexity of the workplace. In other circumstances, it is a stringent requirement for selection rather than just an advantage.
Is SAP a good option for a career?
SAP is a software company established in Germany that serves roughly 378,000 customers globally. This new area is producing excellent career opportunities as a result of its ascent in the stock market. SAP training is the most demanded career nowadays, if you want to take your career on a hike then you should opt for SAP online training. After doing this, the certification you can be:-
● FinanceCorporate Operation
● Customer Support
● Development and Technology
● Sales
● Marketing and Communication
● Human Resources
● Consulting Services.
Selecting SAP online training as your career is a good option, but selecting the right course is not enough you need to choose the right training institute for SAP training. SAP training needs more practical and theoretical knowledge.
Also Read: Top 7 Ways In Which An ERP System Benefits Your Business
Highlights of SAP training from CETPA:-
● CETPA is the topmost trustworthy institute for SAP certification in Noida.
● CETPA provides you the live lab exposure regarding SAP training.
● CETPA has a tie-up with top companies for placement.
● CETPA provides you with 100%job consultancy.
● CETPA provides you the opportunity to do live projects under industry experts.
● CETPA certificates are globally recognized.
● CETPA Is an ISO-certified training institute.