What Is The Difference Between Tekla Structure And Revit Architecture ? Which One Is Good To Learn?
Posted by

Date

October 27, 2021

Comments

0 comment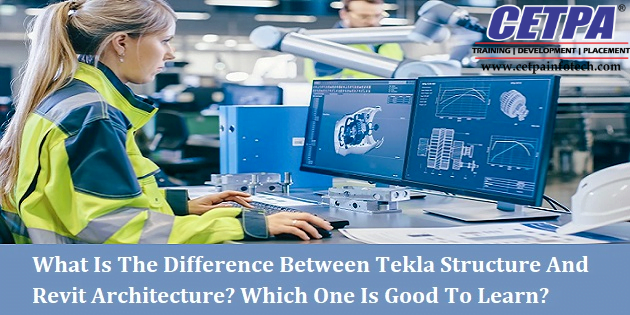 Building information modeling has been more popular among engineers and architects in recent years (BIM). The reasons are self-evident. BIM promotes a more collaborative atmosphere. In terms of building design, it places a strong emphasis on sustainability. Building Information Modeling (BIM) can help companies construct more ecologically friendly structures. They also eliminated a lot of manual labor. Your staff becomes more efficient, and your company saves money thanks to the BIM approach.
While BIM is a methodology, it requires the appropriate software to be implemented. The Tekla Structure Training is the most famous structural 3D modeling BIM software. The Tekla Structure is needed to design and develop a fully detailed 3d model of structures built in concrete or steel with futuristic functions and features for analyzing, creating changing model-based information.
Whereas here you learn Revit Architecture BIM software is a digital drawing software combination. The Revit Architecture online training enables you to create drawings, models with a center on the focus system of building information modeling.
Features offered by Revit course –
The main features of Revit Architecture training are:
● Dynamo for Revit
● Construction
● MEP Engineering & Fabrication
● Structural Engineering & FabricatioArchitectural Design
● Annotation
● Schedules
● Global Parameters
● Worksharing
● Interoperability & IFC
● Parametric Components
Features offered by Tekla training -Design
● Visualizing
● Rendering
● Drawing
● Editing
● Sequence Steps
● Dynamic Updating
Collaboration
● Multi-User
● File Import/Export
● Annotating
● Document Storage
Construction
● Fabrication
● Reinforcement Tools
● Grading
● Dynamic Updating
Collaboration
● Annotation
● Multi-User
● File Import/Export
Construction
● Annotating
● Document Storage
● Grading
Also Read: Is It True Tekla And Azure Construct Secure Collaboration Environment
Difference between Tekla training and Revit course
● The first and most significant difference between the two programs is that the Tekla course is developed specifically for describing steel or concrete structures and has the reliability to describe complex cross-sections. As a result of these, Tekla training is well known among companies that need proficiency in cross-section detailing, whereas Revit Architecture is a program with a broad range of applications. In other words, it can be used by architectural engineers, MEP engineers, architects, and other professionals.
● Reviewers considered Tekla Structures to be easier to use, set up, and administrate when comparing the two options. Mostly, customers favored doing business with Tekla Structures.
● Revit course, according to reviewers, better serves the needs of their business than Tekla Structures.
● When it comes to ongoing product support, reviewers believe Tekla Structures is the best choice.
● Most critics preferred Revit's direction over Tekla Structures' for feature upgrades and roadmaps.
● Both Tekla online course and Autodesk training have their importance in their places. They offer superb and comfortable features with which you can work efficiently. The main thing is that you have to be choosy while selecting the training institute for training in Revit Architecture online course or for certification in Tekla. Tekla training needs more practical sessions and Autodesk Course needs more theoretical concepts to clear, so please choose the only best institute for training.
Also Read: If you want to give new dimension to your career, then join Revit Training @CETPA
Best training institute for Tekla training and Revit course:-
● CETPA is a trustworthy institute for Tekla Structures training in Noida.
● CETPA provides you the real-time exposure in Revit certification which is profitable for you.
● CETPA is an ISO-certified institute.
● CETPA certificates are globally accepted.
● CETPA provides you lab exposure in Autodesk and Tekla Structure online training in Noida.
● CETPA has tie-up with top MNC's for placement purposes.
● CETPA is awarded as the best institute for providing quality education for more than 10years.