How Artificial Intelligence Learning Is Useful In Software Development?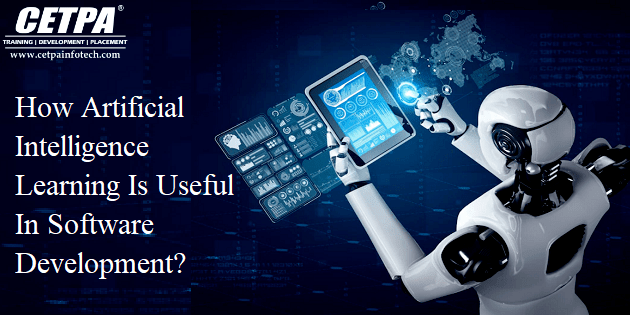 What is Artificial intelligence?
The application of artificial intelligence (AI) allows machines to learn, adapt to new information, and execute existing tasks. Computational modeling and voice recognition are used in a wide range of artificial intelligence applications, including gaming machines and autos. These methods can be used to program computers to perform certain tasks by evaluating massive volumes of data and identifying trends.
Software development is being transformed by artificial intelligence. Artificial intelligence is steadily strengthening its development abilities, assisting us in the creation of a new framework for building technologies, from scripting to execution.
As artificial intelligence provides disruptive innovations to software engineers, we may see major advancements in the future. By integrating artificial intelligence into development processes, professional developers will be able to develop code in a more time-efficient, accurate, and successful manner.
How Artificial Intelligence Learning Is Useful In Software Development?
● Increase in the Speed and Scale of Development
Using artificial intelligence, software testing can be performed automatically, eliminating the need for product testing experts to conduct tests manually. By doing this, not only are more options examined, but also more time is saved. Since human quality assurance is prone to errors, artificial intelligence is vital to monitoring and reviewing. Using artificial intelligence, computers can perform software testing faster and more accurately, thus reducing failure rates and shortening development time.
In order to reduce waste, improve efficiency, and eliminate monotonous manual tasks, software engineers should use artificial intelligence. In addition, machine learning will be used to validate installations automatically, reducing installation time even further. As a result, coding will be more accurate and speedier. So, you can pursue artificial intelligence training to become a better software developer.
● Changing The Role of Developers
Software engineers are changing their jobs due to artificial intelligence. Until it can develop code on its own and replace people, it can only assist with their programming. It is possible, however, that developers could be replaced by machines. They should focus on new tasks, activities and Automating jobs and delegating them to an artificially intelligent machine requires skills they can build together with AI.
● Strategic Decision-Making
The impact of artificial intelligence may be significant because it automates strategic decision-making and eliminates the need for human involvement. By cutting down on the time spent discussing which goods and features to purchase, artificial intelligence could revolutionize decision-making. In addition to evaluating the performance of new software, your artificial intelligence will also minimize risk if it is taught on the success and failure of prior software.
The decision-making process in software development will indeed be driven by statistics, but we can expect judgment to be transformed. Year after year, computers are becoming more powerful, helping us make better decisions by augmenting our cognitive abilities.
Also Read: How Artificial Intelligence Might Change Your Life?
Error Management
AI-powered coding assistants may spot typical errors when fed historical data and software analytics. It may be necessary to scale back a project if issues are identified during the development process. After deployment, operations teams can utilize machine learning to recognize faults and anomalies by examining logs in order to proactively identify them.
Computer programmers are most frequently impacted by errors associated with error management, especially when using a software as a service (SaaS) or cloud-based platform-as-a-service (PAAS). Each minute you are unavailable costs you revenue and harms your reputation when your clients rely on your services 24 hours a day.
Artificial intelligence is before long going to be significant to all business applications in your software development organization, and you can upgrade your software development process by integrating it into however many segments as could be expected under the circumstances. Before long, artificial intelligence will turn into a need for programming designers. It has previously become the dominant focal point as at no other time, and it will not surrender the spotlight at any point in the near future. Whether it's the AI-helped mechanization of an office telephone framework, an AI-fueled chatbot, or AI-production choices, soon we won't have the option to manage without it.
Now when you understand the importance of artificial intelligence and you are thinking about starting a career in artificial intelligence then go for the artificial training online. As several training institutes offer artificial intelligence training in Noida, CETPA is one such training institute which is best and well known for the artificial intelligence training in Noida. You can go and learn the different aspects of AI.