How Digital Marketing Services Are Important For Small Business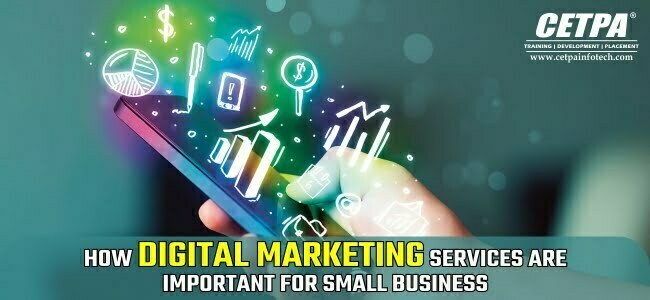 Why do small businesses require digital marketing is a question people usually ask. Small companies -with limited marketing budgets – are competing with national and international labels when it comes to promotion and marketing. In this ever-growing digital era, small companies have no other alternative but to compete with companies that have much larger marketing budgets. The online attribute of organizations demands that small businesses compete on a larger scale.
Everywhere you look today people are increasingly preoccupied with technology. Every company requires an online strategy to succeed today. But unfortunately, not all small business owners have that strategy.
Let's discuss why Digital Marketing Service is crucial for small business:
• More Reach to potential customers
More people are now using the internet and spending their time online doing searches, engaging with others, monitoring social media, or purchasing things there. This implies your clients are online, and if you don't engage them there, someone else will, and you will waste prospects. Moreover, the best online digital marketing training can help you reach more leads by using less money. More importantly, digital marketing can be used by any company irrespective of the size and industry to reach its clients.
• You can target your prospects based on demography
Digital marketing provides your business with an excellent chance to market directly to people who may have an interest in your goods or services. Unlike the traditional techniques, you can specifically know whom you are targeting, how your clients are responding to your ads, your conversion chances, and other parameters. You can use all the essential demographic points like age, location, sex, interest, etc., and target your audience and obtain value.
• You can track your campaigns
Digital marketing also provides you an opportunity to track and monitor your ad campaigns and get measured results. You can measure your campaign's performance against different metrics and get a good idea about how things are moving ahead. Based on the information, you can optimize your campaigns and drive better conversion rates and boost ROI.
• You can compete with big brands of the industry
Because of digital marketing, it is now possible for small businesses to challenge the authority of big players in their industry. You will have access to the same tools and methods that big players of the industry have, can work with the same rules and methods, and reach the potential leads cost-effectively. Moreover, you can use methods like SEO, Pay per Click management, SMO, and banner advertising and offer the best players a run for their money.
Also read: Benefits Of Using Digital Marketing For Your Business
• You can get better returns on investment (ROI)
Digital marketing is known to drive results for companies of any size and from any industry. There is always a large potential with this marketing form and your investment is always set to achieve amazing results. For that purpose, you can join an online digital marketing course and benefit from its expertise and grow the base of your business.
Conclusion
Most companies have already traded traditional advertising techniques and are concentrating on SEO, Google Adwords, Social Media, or SMS. With so many rivals out there it is difficult to market your small business and get forward of the pack. Observe what is working for you, what your current and potential customers are engaging with. Once you know what's working for you, repeat.