How is Web Development Different From Web Designing?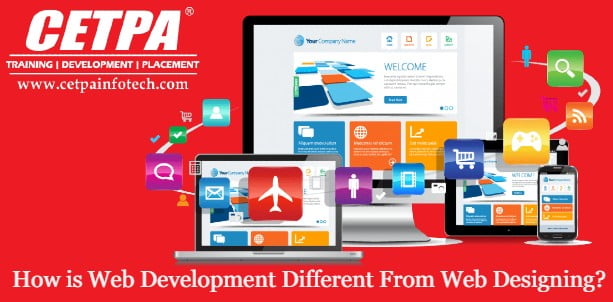 An Overview
The internet is the most powerful tool in the history of humankind. It has the power to create, develop and even demolish ideas, innovations, and preconceived notions. There's ample space for everyone in the digital world.
You can create businesses, share new ideas, connect with people all over the world through the web. So, it's only obvious that the digital world creates infinite possibilities for career exploration and expansion. So, whether you want to pick web designing training or web development training that's up to you.
Both Web Development and Web Designing come under the umbrella of digital careers and help bring websites to life. And although Web Designers don't focus on programming, both of these roles require some amount of programming information.
Furthermore, the main objective of both of these roles is to make the website and by extension, the internet better.
What is Web Designing?
Web Designing is an essential part of every website as it is concerned with how the website looks. Along with taking care of graphics and the looks of the website, a modern professional web designer must also possess knowledge of the basics of HTML and CSS. As a web designer, you also have to be digitally savvy, so make sure you're familiar with SEO and digital marketing.
Web designing is what makes the website look attractive as well as appealing to the target audience. Moreover, it also increases website traffic and returns on investment. So everything that a user sees on their computer screen or mobile is due to web design. For this purpose, color theory, graphic design, information flow, and typography are used by the web designer.
Also Read: What Is The Importance Of Web Designing In Today's World?
What is Web Development?
Web development is essentially creating a website as well as items concerning it. Web developers are often regarded as programmers because they are responsible for the inner workings of the website and its interaction with users. All of this is done by coding hence a web developer must be an expert in HTML as well as CSS. HTML is the rudimentary language of web development hence is highly essential.
But how do they differ from each other? Let's find out!
● The very first area in which these two differ is compensation as web developers tend to make more money than web designers.
● In terms of skills, web designers are expected to have creative as well as artistic skills, whereas web developers are expected to possess analytical skills.
● Although both web designing and web development are crucial, web development is regarded to be more important as it lays the foundation of the website. A well-functioning website needs excellent features, coding, pages, home screen, and web address and all of these come under the umbrella of web development.
● Good web design is the cherry on top however web development is always the foundation on which designs are eventually going to be made.
● But this does not mean that web designers are not desired, their demand is only going to increase as time passes.
In the end, both are crucial to making any website more lucrative. While web development remains to be the most crucial one, web designing is the ingredient that every website requires to truly stand out.
Now that you're familiar with web development and web designing, you can go through our online web development training course. CETPA is well known for providing the best online web development training as well as web designing training in Noida. We provide placement consultation with both the courses so you need not worry about getting hired and learn freely!