Top 7 Ways In Which An ERP System Benefits Your Business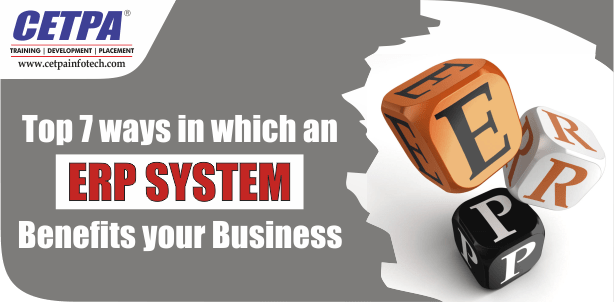 Aiming for maximum efficiency in the business should be the principal focus of every business owner. Making sure there's minimum to no wastage of resources while scoring the best profit margins is yet another pointer to keep in mind when you're at work.
But managing so many things at once is bound to make you feel exhausted. This is where ERP saves the day. ERP essentially takes care of every single aspect of the manufacturing process to make sure that information, as well as operations, flows seamlessly in the organization.
ERP is short for Enterprise Resource Planning and it mainly handles the manufacturing process from the beginning till the end efficiently and effectively.
Top 7 Benefits of Using ERP
ERP Decreases The Number Of Errors: The ERP software has the ability to eliminate differences between data of various departments in the organization. Hence, it is able to reduce errors substantially. This way, it can also transform data smoothly from one sector to another.
ERP Provides Substantial Business Insights: ERP software systems outsmart other business software because it has the power to integrate data for the entire organization. As a result, organizations receive significant insights from their various analytic tools.
ERP Enhances Visibility: The ERP software system makes sure that every and each operation is visible to different departments that exist in the organization. These include senior management, junior management, shareholders as well as stakeholders. So all the operations taking place within the organization are traceable. This feature further improves business efficiency.
ERP Is Cost-Effective: Unlike most applications, ERP is a software system that covers all the areas of the business instead of just one or two. This means that once you opt for ERP, you don't have to pay for 20 other systems to ensure that your business runs smoothly. ERP allows businesses to use only one system, thereby eliminating excess software. Hence, it reduces cost.
Also Read: 5 Incredibly Useful ERP Training Tips for Small Businesses
ERP Is Mobile Friendly: Various ERP software systems provide applications on iOS, Android, and Windows smartphones which provide flexibility and are also easy to use. These applications come in handy, especially for reminders and important updates that are
exceptionally crucial for business. These include information about revenue, sales, web traffic, etc. Mobile phones provide more accessibility and are also convenient for the employees.
ERP Improves Employee Productivity: ERP software systems are known to enhance the productivity of employees in numerous ways. This is so because employees need not switch between software as often during their typical work sessions, all thanks to the ERP software system. As a result, minimum to no time is lost and there is no loss of productivity, because one does not have to deal with switches.
Usually, employees are at their highest productivity level when they get to attack the same task in repetition. So, if they are required to switch from one task to another repeatedly, it will lead to a loss of productivity along with slowing them down. As mentioned above, ERP systems also provide powerful insights which can increase the productivity levels of employees in the long run.
ERP Provides Reliable Data: ERP software systems ensure that data from every department is amalgamated into a comprehensive management tool. This is done to determine performance and processes during each step of the manufacturing process.
Now that you know all the benefits of using an ERP system, it's time to enroll in our online ERP training program. CETPA is one of the best ERP training institutes in Noida. We ensure that you get the finest online ERP training, along with placement assistance.
All you have to do is enroll in our online ERP training program, as it covers the basics of ERP as well as the advanced concepts.