How To Develop A Fruitful Career in Software Testing?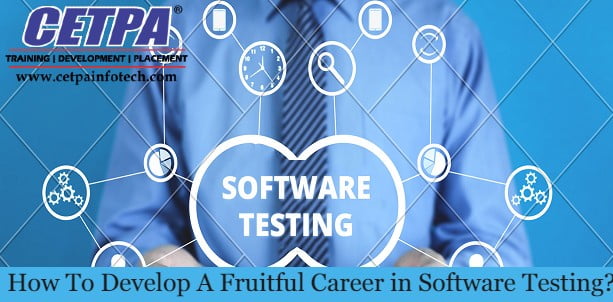 People tend to mix up software development and software testing and in the midst of all the confusion, software testing becomes the less important one. Consequently, Software Testing is one such career path that is often overlooked by IT professionals, yet it is still one of the most sought-after roles in the world of technology. Being a software tester is not considered worthy enough.
However, whether or not you believe it, software testing provides equal or more opportunities than software development or any other field. So, there is a substantial need for software testers in the tech sector. Hence the idea that software testing does not lead to a fruitful career is absolutely false. And our objective is to debunk this notion.
Software Testing- An Introduction
Software Testing is essentially a process of verifying computer applications and programs. Software Testing takes place to verify whether a particular system meets the specified set of requirements. Another significant role of software testing is to detect bugs in software systems and programs.
What Is The Role Of A Software Tester?
The role of a software tester is to find defects in software programs called bugs and report these defects into the tracking system. Making sure that different types of software programs pass through all the rounds of testing to verify that they work well before their release is also the job of a software tester.
Moreover, pursuing a career in software testing isn't a heavy investment as our best software Testing online training is cost-friendly and is the only course you need to venture into the world of software testing.
How To Develop A Fruitful Career in Software Testing?
Fulfil Certain Academic Requirements: Having a bachelor's degree in computer science or IT field is crucial to make your mark as a software tester. Moreover, in case you don't possess any testing experience, our online software testing program can help you to kick-start your career in software testing.
You Should Be Able To Analyze Data: Along with regular testing, a software tester should also be able to analyze the data for particular products. Hence, having great analytic skills is also
crucial for the role of a software tester. Moreover, you should be able to analyze the test environment as well because it helps you reach the origin of the actual issue or root of the problem.
You Must Learn How To Prioritize Effectively: Following timelines is important for software testing, so you must know how to properly prioritize tasks at hand. You should also be able to recognize which task is urgent and which one can be done later. It is essential for an ideal software testing professional to know what should be carried out at the last moment. Constructively identifying priorities is very integral to this role.
Also Read: Kick-Start Software Development With DevOps
Know How To Coordinate: Coordination is also very important as a software tester should be able to work in coordination with the developers. You must cooperate with your co-workers in order to provide the best results.
Pay Attention To Details: In order to have a successful career in software testing, you need to be a quick learner and pay great attention to details. In software testing, it's important to be able to read and understand the specifications, and various other documents to confirm that the software is working as designed.
Know-How To Communicate: As a software tester, you will have to deal with insufficient or deficient information and requirements. So you should be able to communicate your queries and concerns effectively. You should also be able to ask the right questions and minimize confusion.
Now that you know all about software testing and how to build a successful career in it, it's time to enroll in our online software testing program in Noida. CETPA is widely regarded as the software testing training institute in Delhi.
If you join our online software testing course, you will get the finest software testing training in Noida along with effective placement assistance. So, don't have to worry about getting hired, all you have to do is enroll in our online software testing training course to enter the world of software testing.