IMPORTANT FACTS THAT YOU SHOULD KNOW ABOUT DATA ANALYTICS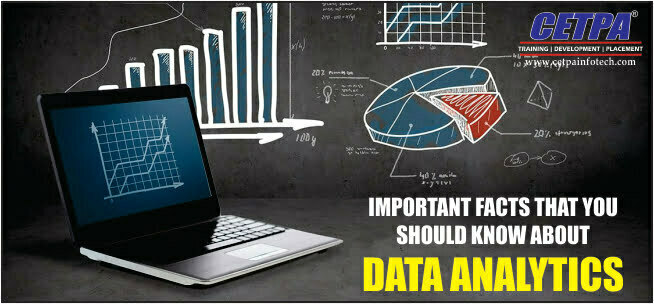 Data Science, Statistics, Machine Learning or Data Analytics – anything you call it, this discipline is on rise in last quarter of century primarily owing to increasing data collection abilities and exponential increase in computational power. Actually, no branch of engineering, business or science, is far from touch of analytics in any industry. Perhaps you, too, are interested in being, or already are, a data scientist. In this blog we will discuss some of the important fact regarding this field.
Different sectors, different functions
Data analytics has various end-meanings and uses depending upon the type of industry or business. From online analytical processing (OLAP) to CRM analytics employed in call centres, this technique is omnipresent. In addition to this, data analytics is also employed in banks and credit card companies that analyze withdrawal and spending patterns so as to prevent fraud or cases of identity theft. In the IT industry, the term holds a different meaning altogether.
Must Read: Things you need to know about Data Science
Data analytics is now a priority for top organizations
With market competition stiffening, top organizations are turning to data analytics to identify new market opportunities for their services and products. As things stand today, 77% of best enterprises consider data analytics a critical component of business performance. What this means is that big data professionals have a huge influence on company policies and marketing strategies.
Increasing pay for data analytics professionals
As the demand steadily increases and the supply remains low, data analytics professionals are getting paid more and more. In India, data analytics professionals are paid on average 50% more than their counterparts in other IT based career. This trend is evident across the globe as more and more companies realize just how important these professionals are to the organization.
You will have various job titles from which to choose
A data analytics professional has a broad range of job titles and fields from which to choose. Since big data is used almost everywhere today, you can choose to be a:
– Metrics and Analytics Specialist
– Data Analyst
– Big Data Engineer
– Data Analytics Consultant
These are just some of the job titles you could hold in big organizations such as IBM, IT trend, Opera, Oracle, etc and the possibilities are immense.
If you want to learn more about Data Science and its development, then join Data Analytics Training in Noida at CETPA. CETPA is an ISO 9001: 2015 certified training company which provides live project based training with assured placement assistance.