Key Benefits Of Summer Training Revealed By The Experts!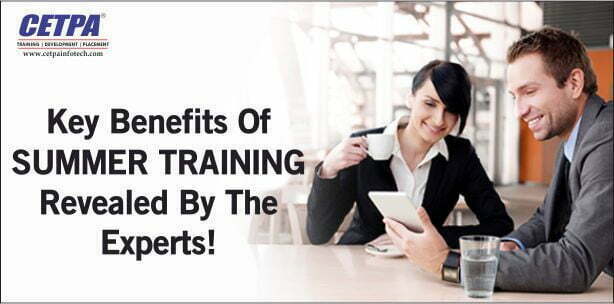 In a digitized world where everyone is trying to get smarter and learn competitively to pass the interview, only a degree is not enough, you need special skills to make your presence felt. Summer training can help you with this problem. Because in this busy life when you have to do a lot of things at a time, and every learner is competing for the job. So the summertime is the best to get certified in top skills that are in trend.
With the assistance of Summer training, learners get the benefit to realize industry expertise. Once the trainee appears for the interview, then online summer training is going to be an important practice that enormously benefits the students. In summer training, students get the experience and atmosphere of corporate and industrial work.
Learners benefited from Summer training online since it allows them to gain experience in the industry. Students gain exposure and experience in business and industrial work environments during Summer training.
Benefits of Online Summer training-
● Summer training is mostly about developing skills, being informed about recent issues, and putting your theories into practice to be prepared for the future.
● Summer training certification is useful in almost any interview process.
● After the training, you will be assigned a project, which is a live project or the latest one, to expand your knowledge learned during the training.
● Summer training strengthens your existing talents while also teaching you new ones, allowing you to stay connected with the latest trends.
● As a result, the most important goal is to improve your talents.
● Build Stronger SKILLS:- From an academic admission test to an internship to landing a solid job, we are all up against the stiff competition. We must also cultivate exceptional abilities. This online Summer training program is usually geared toward honing your talents and preparing you to excel in whichever course you choose. Great aptitudes are fundamental for landing a work that does
not fair a great wage but moreover inventive work and positive work culture.
● Summer training offers Certification for skills:-
On the top of your resume you can mention your skills in detail through a proper Certification from the certified established training institute, this will work like confirmation that you just are a master in your field. Summer training helps you to get confidence in yourself.
Also Read: Why is Summer Training Importance for B. Tech. Students?
● Consider your options for a career-
Exploring is a crucial part of the educational process, and Summer training is a wonderful method for learners to get a better understanding of their chosen subject. Some individuals attend college with a specific degree or career path in mind and later change their minds. Online Summer training encourages students to learn in their selected field while still in college, allowing them to determine if the field is suited for them.
● Develop and improve your abilities.
During online Summer training, you can gain knowledge about your skills and limitations. Training provides valuable input from managers and other experts in the industry, as well as a once-in-a-lifetime learning experience that you will not have as a full-time worker. Accept the mistakes you will make as a trainee, as well as the many issues you will not know. Taking full advantage of your online Summer training experience, request puzzles, examine, and take gambles.
There are enormous benefits of Summer training that build your career and also help you in uplifting your career. But thinking about online Summer training is not enough you have to enroll from top training companies so that you can learn and you can also work with them and one of the top training companies is CETPA infotech.
● CETPA is a top training company for summer training.
● CETPA is the leader of high-end training.
● CETPA allows you to perform in the placement drive of the top companies.
Why choose CETPA?
● CETPA gives you an opportunity of doing live projects.
● CETPA offers you internship-oriented courses so that you can earn experience as well as knowledge.
● CETPA gives you industry-like exposure so that you can adapt well.
● Trainers are industry experts.
● The course content of CETPA is tailored by industry experts.
● Free course kit and course revision.