Importance Of Six Months Industrial Training For A Successful Career?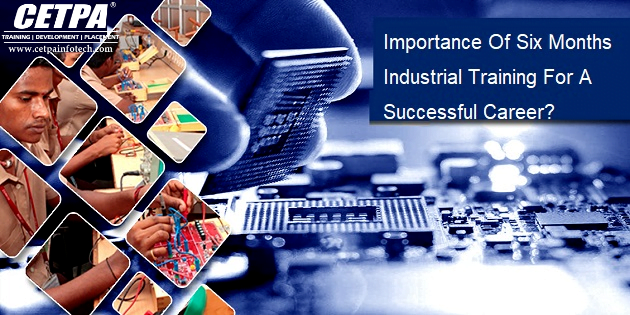 Industrial training is an essential part to start a career in the industrial field. As everyone knows that when you are giving an interview then the most frequent question asked by the interviewer is that how the different sectors work in relation so can accomplish the given task, how to deal with the problem during the workload, and many more things because they know that if they hire a fresher employee then he takes time to understand the environment of the organization.
So doing industrial training is a huge advantage to those who want to start their career as an industrialist. Every company is looking for those who have some experience, who have good knowledge of modern technologies. To learn these things and to know what are the requirements of any organization and how an industry runs. You should do a minimum of six months of industrial training to know about modern technologies and to boost your skills.
When you just completed your degree you have only theoretical knowledge. But the companies want to hire those employees who have some practical and industrial knowledge. To earn these skills you should join the best training companies. There are lots of companies that provide industrial training. And another big advantage of joining industrial training is that you don't have to search for a job, these training organizations give lots of job opportunities.
Reasons to know why you should do industrial training ?
● Business startup
After completing your industrial training you can start your own business. For a business startup, you must know about the things which are in trend. Besides that, you can also do freelancing because after the industrial training you are aware of the working concepts in detail.
● Industrial training helps you in Finding your career-
There are a no. of people who don't know about their interest in terms of career. With the help of industrial training, you will get to know about the interest and after doing industrial training you can select the right field to grow your career.
● Working on weakness
Industrial training helps you in finding the weakness and skill gap if you have any and industrial training helps you to overcome that weakness and boost your skills
Also Read: Best 6 Months Live Project Based Industrial Training!!!
● Industrial training helps you to keep updated with modern technologies-
Almost every engineering student tries to know to stay connected with updated technologies and definitely, they know their respective field. But the technology is upgraded day by day and every knowledge is helpful but you can't differentiate between the knowledge which is beneficial for your career and helps you to grow your career in which department and the basic knowledge which is known by everyone. So industrial training helps you to prepare with the right knowledge and right technologies which can make you successful in the market and later on with your job.
● Industrial training offers Job opportunity
According to your performance in the industrial training, you will get the best job opportunities from your training company. Even they can also hire you, depending upon your performance.
Although you may know that you are ready for the job, actually you are not ready to do the job in the corporate sector as an engineer until you have the practical knowledge
You should be first familiar with the environment and learn practical skills before joining the company. In industrial training, you will get the vital skills about the corporate sector to shine in that field. Industrial training make you enough confident so that you can make a good impression in the company
One of the top training companies for industrial training is CETPA infotech. This is a famous and trustworthy company for industrial training. Enroll now for industrial training and get placed in top companies.