Advantages Of 6 Weeks Summer Industrial Training Courses-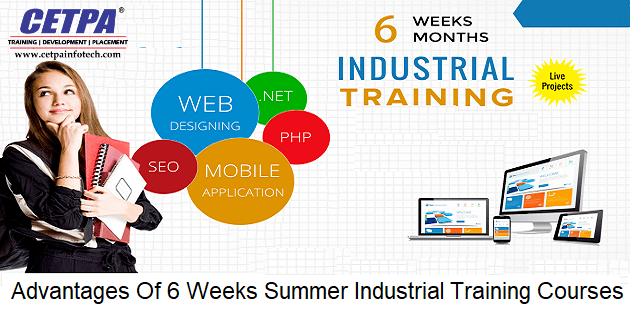 Every student benefit from summer training, as it provides practical experience. This program ensures that candidates don't waste their time over the summer and use this in learning new concepts from experienced instructors. After completing the 6-week summer training program, students receive a 6 monthly summer training Certificate that will help them, when applying for jobs. Engineering students' openness to industrial training is vital because it helps them to gain industrial experience and familiarize themselves with the industrial atmosphere.
Advantages of summer industrial training-
● Theoretical knowledge is not enough-As everyone knows, theoretical knowledge cannot update you latest technologies that are booming the market. But industrial training can help you by introducing the latest trends in the market. Six weeks of training will help you to improve your knowledge regarding emerging technologies.
● Summer training is Crucial-As, students are unaware of business requirements, So, industrial summer training is critical. Therefore, students' performance can be enhanced by increasing their knowledge in this way. Before completing a graduate degree, such as a B.Tech, M.Tech, MBA, and others, Industrial training gives you practical work experience.
● Summer Training is competitive preparation-For engineering students, the six weeks of summer training are crucial. Those interested in making a successful career Can choose this industrial training program. During the advanced technology track, candidates can choose the latest technologies where they want to improve their skills. Candidates must take industrial training courses to develop their skills to be competitive.
● Summer training offers good career opportunities- Summer training offers a great opportunity for students to learn new technologies through industrial training. Technologies are continually growing. Learning all these advanced technologies without professionals is extremely tough. Professionals have the expertise to teach you these advanced technologies and help you master them. These professionals can clarify any doubts the candidate may have quickly.
Also Read: Key Benefits Of Summer Training Revealed By The Experts!
● Summer training improves leadership Skills- Summer training programs aim to improve leadership, interpersonal, communication, and teamwork skills. While applying these skills is important when applying for a job with multinational companies. You will gain a solid understanding of cutting-edge technologies such as PHP, Excel, digital marketing, R programming, ERP, and more.
● Summer training open-up the way to top companies-Summer training is provided for three months of training over the summer. Students have the best opportunity to build a strong career foundation with it. You should complete the training from a top institute. If you want to uplift your career then go for it. Several students have obtained certification from a reputable institute and learned important skills. Candidates can get jobs in several top companies after acquiring 6 weeks Training in Noida certification.
Features that summer training offers-
● You get an opportunity of doing the live project.
● The student's versatility will be enhanced and their employment prospects will be increased
● Candidates are trained by experts in clearing their doubts.
● The candidate's confidence and communication skills are also boosted by the 6 months summer training.
● The training program can help you to develop leadership skills
● Develop the engineering students' programming skills, testing skills, coding skills, and other elements that an industry professional needs.
Summer training is only useful when proper training is provided to students and Choosing then Live Project Training Institute involves evaluating several factors, including licenses, faculty experience, the course, the location, certifications, and so on. Engineering students can use these factors to identify the best training institutes identify the best summer training institute.
● CETPA is the top training institute for industrial training in Noida.
● CETPA course content is made by industry experts.
● CETPA provides its students an opportunity to appear in placement drives.
● CETPA provides its students an opportunity to work on live projects.