Expand Your Career Opportunities By Learning Microsoft Azure In The Cloud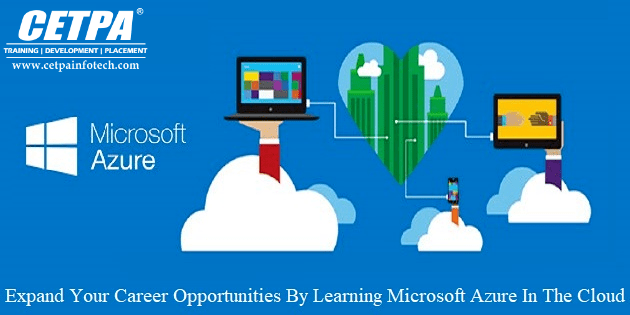 Cloud computing has revolutionized the entire computing industry and has recently moved from on-premises to cloud computing courses. Using this computing model, computers and other devices can view data and share computer processing on demand.
Computing power, data storage, applications, and other IT resources are delivered on-demand using a platform that is based on a pay-per-use model. In other words, cloud computing training enables access to servers, storage, databases, and an array of applications via the Internet. Because companies do not have to invest a great deal in IT infrastructure, cloud computing training is cost-effective.
It's no surprise that Microsoft Azure online training is one of the best cloud computing platforms. Your organization can utilize a variety of cloud services to meet the challenges it faces. This means that you have the freedom to build, manage and deploy your applications on global networks using your favorite frameworks and tools.
Advantages of learning Microsoft Azure in the cloud-
Learning verifies your skills and provides you with evidence. Using technology is an opportunity to show your ability and inclination toward new things. Qualifications open doors for success. Learning in Microsoft Azure training will help one get hired, and become productive more quickly and recognized by employers.
Having a skill such as Microsoft Azure online training can greatly increase a candidate's chances of getting hired for a cloud computing position. Forbes reports 56 percent of Fortune 500 companies to use the platform. Additionally, Microsoft Azure training has been officially accredited by the United Kingdom government.
By utilizing Microsoft Azure training, IT professionals can access an array of Microsoft products that have been in use for years, including Visual Studio, Windows, Linux, Active Directory, and an array of third-party tools. As well, Microsoft Azure training SQL Server is based on the popular Microsoft SQL Server, making the switch to Microsoft Azure training simple for professionals.
Also Read: Which Is The Best Azure DevOps Certification Vs AWS DevOps Certification?
Doing a certification to get certified in Microsoft Azure training, is beneficial to rock the world like a pro, and w will define the requirements to get perfectly certified in the Microsoft Azure training domain.
Following are the requirements for certification training-
● Microsoft Azure training platform and infrastructure will be introduced in the training.
● This section provides information about the Microsoft Azure online training network and the Virtual Machines.
● The Microsoft Azure course will teach students how to deploy Azure storage, backup, and recovery solutions
● This Learn how to implement and architect Microsoft Azure training solutions that use Azure SQL databases
● Managing Azure training web applications and utilizing Azure Active Directory are the topics covered in this course
● Azure IaaS and PaaS services are also available for learning
It helps you get the best jobs in top MNCs through the entire course, which aligns with clearing the certification exam. With this training, you will work on real-life projects and assignments that will help you gain experience that is directly applicable to real-world industry scenarios, thereby accelerating your career.
Microsoft Azure training needs more customized and detailed concepts that are packed with elaborated concepts and for this, you need to learn from experts CETPA is the top training institute for cloud computing training in Noida.
Why go for CETPA?
CETPA is awarded as the best institute for Microsoft Azure training in Delhi NCR.
CETPA trainers are industry-working professionals.
CETPA Microsoft Azure course content is equipped with theoretical to practical concepts.
CETPA assures you 100% placement assistance.