Why Our Summer Training Program is Different from Others?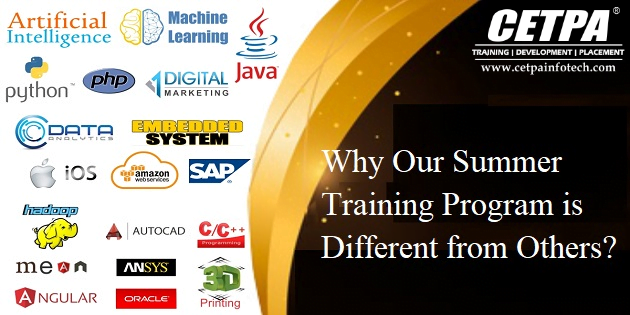 Nowadays Summer internships and summer training are in the widest search across the internet and every student searches for the best Summer training institute so that they can develop their skills. Choosing the right Summer training institute is important for a bright future but it is confusing too. Because there is a number of Summer training institutes that are offering summer training programs and choosing the best is tough and CETPA is one of the best Training institutes for Summer Training.
Why Our Summer training program is different from others?
● Gain real-time experience-
Summer training provides you with a hands-on professional experience. If you work in a company then you are not only there to do tasks and make noodles you're there to work. From small companies to big ventures there is a need for interns and only you need to have somebody to direct you through the cycle with the goal that you can acquire. However, this is just because you need to gain knowledge of real-world experience and CETPA provides you the chance to have hands-on real-time data and also provides you an internship letter on company letterhead.
● Top up your resume-
An extraordinary resume is a vital aspect for opening your opportunity for that interview you need. Consider your resume is the first impression of an organization it's the first insight you get. A strong Summer internship training profile will keep up your resume and make a good impression. CETPA provides you with the experience that is important for you and your resume.
● Check the Course Curriculum-
Go through the course Curriculum prior to starting your 6-months Summer training. A course Curriculum fills in as an aide for advancing through the learning framework. It covers the course goals and the course structure, projects, tests, review gatherings, and various activities expected to acquire capability with the subject. CETPA offers its Summer training course content with up-to-date technologies and for this CETPA prepares its course content under the guidance of industry experts.
● Check who is you are trainer-
Mentors are important because they guide you in the right direction and learning is not the only motive you need in a program you need future guidance in your summer training and for this, you should learn from the trainers who have a good knowledge of their domains and CETPA trainers are working professionals. They teach you in the right direction because they knew what you need for your bright future and guide you in the right direction.
Also Read: Advantages Of 6 Weeks Summer Industrial Training Courses-
● Placement assurance-
CETPA assures 100% placement so that students get their dream jobs and dont struggle for their job CETPA has tie-up with top companies and CETPA provides their students a chance to appear in the placement drive of top companies.
● Brand awareness and recognition-
CETPA is an ISO-Certified company and its certificates are globally recognized. CETPA has been awarded as the best training institute for providing quality education for more than 10years.CETPA believes in quality, not in quantity.
Now you can understand why CETPA is different from others. so start Your Summer Training in Noida  with one of the best Summer training institutes and live your dreams. Because Summer training will brighten up your career resume and your skills too.