Key Responsibilities of a Full Stack Development Engineer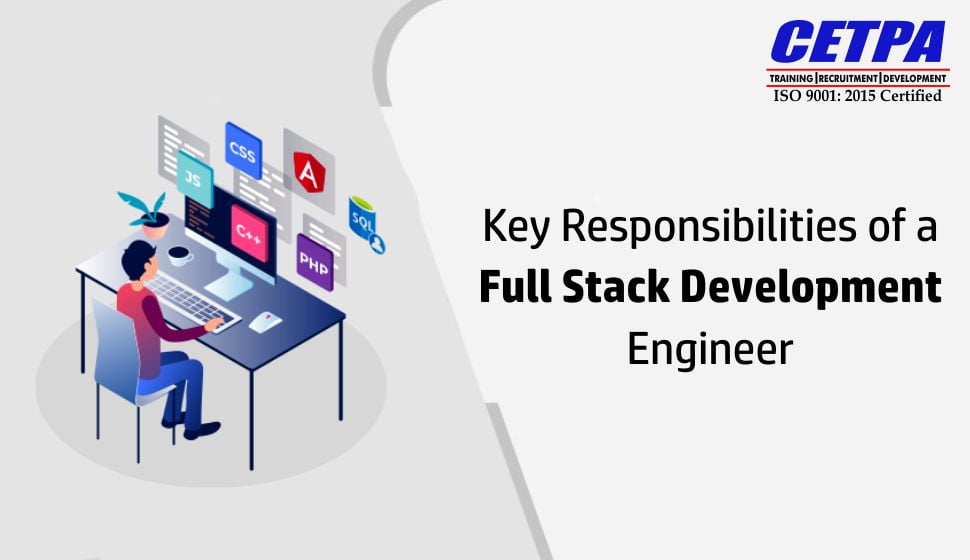 Having knowledge of full stack development is good but you should also be convenient about a number of other perspectives that may give you a proper way to achieve success. A full stack developer is a person who is having a wide variety of coding knowledge as he needs to work on both the front-end as well as in the backend development. They need to work on multiple platforms such as databases, clients, and servers. 
Also, he works on a number of different technologies such as JavaScript, Java, HTML, C#, and others. Even many more organizations are looking for Full Stack Development Engineers and this says there are a number of various opportunities for them. If you are also one of that persons who are interested in learning more about this, then you need to put a step ahead. Just start with Best Full Stack Development Training in Noida and pursue your career. 
You will find full-stack development engineers everywhere in this world who work on a number of aspects. They have a deep knowledge and understanding of different complex concepts and even have a complete focus on better collaboration and contribution for the team members. Now, let us understand a number of responsibilities of a Full Stack Development Engineer. 
Key Roles and Responsibilities of Full Stack Development Engineer
Honestly, it is one of the known high-paying jobs and once an engineer will enter into this career, then there is no backout as the work will be quite interesting. Also, there are a lot more benefits you will get such as can improve your efficiency at work. 
Now, the question arises what are the responsibilities of a Full Stack Development Engineer?
They need to connect consistently with the development team, product managers, and other stakeholders to develop more creative software solutions. 

Should be aware of the latest tools, technologies as well frameworks, and libraries. 

Ability to work on databases, servers, and the latest APIs. 

Provide a roadmap for continuous improvement of the software in order to add and remove the functionalities as demanded by the clients. 

Need to put a number of strategies for better performance and optimization of the customers. 

Also, he needs to lead the entire team of designers, developers, and other testers for creating better business objectives.

Ensure to test the number of production phases and have cross-platform compatibility. 

Should put complete focus on clients as well as complete the technical needs. 
Requirements To Become a Full-Stack Development Engineer
A person should have a technical degree, i.e., B.Tech in Computer Science 

Have leadership skills and project management skills. 

Know the front-end as well as the backend languages such as Python, Ruby, HTML, CSS, Javascript, and others. 

Should be familiar with the Javascript frameworks such as React JS, Node JS, and Amber. 

Basic knowledge of database technologies such as MySQL, Oracle, and MongoDB. 

Excellent communication skills and the ability to think critically and logically. 
Note: In case a person should not have a degree but have a proper understanding of programming languages and are familiar with other things as mentioned above. Then, he should for the Full Stack Development course to add to your resume. Once you add this, it will play a major role in your resume and work on better experience and understanding for the employer. 
Not only course is enough, but you should Join the CETPA Infotech Insititute in Noida which works on building the creative mind of the candidate with proper training by professional experts. Also, they allow users to work on hands-on live projects. 
Also Read: The Ultimate Guide To Become A Full Stack Developer In 6 Months
End Results 
In short, full-stack developers are highly professional users who work on developing websites. They have the skills for both the client side as well as the server side and have numerous responsibilities to become a professional Full Stack Development Engineer. Honestly, it is the best career option as you will get numerous opportunities and have a well-paid job.