Top 5 Programming Languages Used By Developers in 2023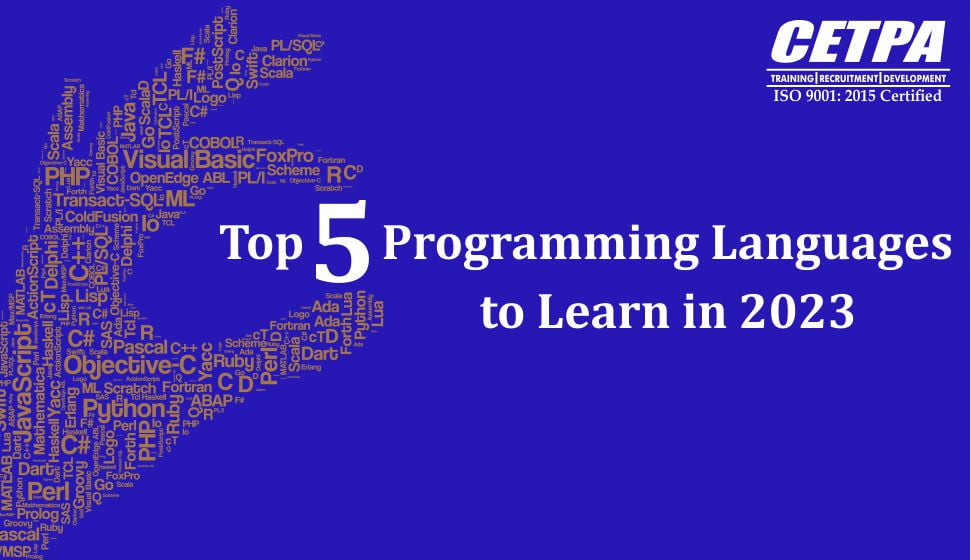 In this article, we will talk in-depth about a number of programming languages that will be used by developers in 2023. If you are also interested to go in the development field then this article is especially for you. Here, you will understand a lot more things that are essential for your career development. 
Programming is a skill that has been increasing in the market rapidly. There are unlimited languages present in the world that works on different projects and gives better success. 
We all know that many new programming languages are coming in this era which can help you create the best career. Moreover after reading till the end, hope you will be able to choose a language in which you want to make your career successful. 
In fact, you should go for programming language training in Noida from CETPA Institute. Now, let us move to the main part. 
Top 5 Programming Languages You Should Learn 
Java is one of the popular world-class languages which is an object-oriented and open-source language. It is a cross-platform language that can be working on mobile, desktop, and other platforms also. Also, it is an evergreen language that has a number of wide opportunities in the market with well-paid jobs. So, if you think that this is the best language for you then start java training in Noida. 
These are the base languages to learn when you just took a step in the development field. Both languages are much easier to understand and have a better scope in the future. The main reason behind learning these at the start is they can help in sharpening your skills and working on a lot more projects. Also, it will work on putting more and more interest in the software development field. 
JavaScript is another programming language that is been used in a lot of websites to build dynamic web pages that are more interactive. Not only on websites but also works on multiple applications to bring more and more creativity to engage more users. In fact, it focuses more on user interaction and works on increasing more productivity of entire businesses. 
Python is an open-source programming language that works in a number of multiple areas such as Data science, machine learning, data analysis, server management, and others. Python is known to be one of the best choices for a number of techniques, all because it is easier to write and has the ability to handle a number of databases. 
HTML and CSS are the basic languages that have been used for designing purposes and used for web design, graphic design, marketing, and others. Both these languages are used to interactive elements in a web page and automatically attract customers with their designs. 
Also Read: Top 3 Choices for Your First Programming Language
End Results
Hence, after a powerful discussion, hope everything may be clear to you. So, these are the 5 top programming languages that are necessary for all of you to understand. After reading the entire article, hope you will choose a particular option at the start of your career. To get a complete understanding, you can anytime connect with our team experts.