Why You Should Choose to Become a Full-Stack Java Developer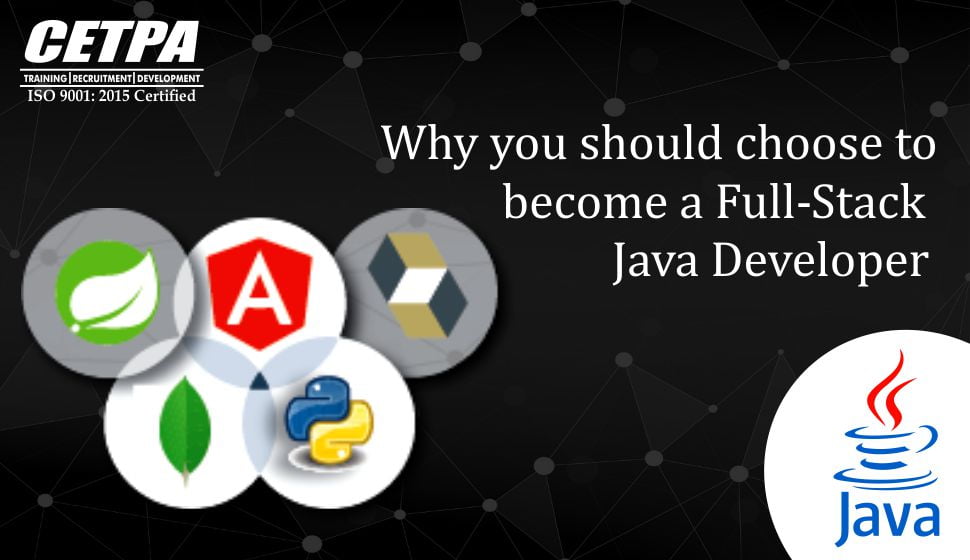 Modern Web development requires much more technical knowledge and enhanced skills. Nowadays, the demand for full-stack developers is growing massively in order to bring a lot more change in the development field. 
Full Stack Developer is a person who works on developing websites or building applications and has knowledge of both the front-end as well as backend languages. They need to work on a lot more tactics such as handling servers, databases, and clients. Honestly, you need to learn a lot more things and need work on your mind in order to carry out creative data when needed. If you are the one who is interested in learning Java Full Stack developer but also a professional who is working in an organization, then the best way is to join Full Stack Java Developer Online Training. 
Now, we need to understand a number of reasons which truly justifies, how and why you should become a full-stack java developer. One of the most common reasons is that its job is high in demand and a person who is a part of this community can join an MNC and get a better package with a reputed role. Another thing is you can start freelancing and also start your own firm providing services to US-based companies. Other reasons to become a full-stack java developer, we are going to start discussing in the below section. 
Reasons To Become a Full-Stack Java Developer
Better Scope of Growth 
There is a huge scope for Full Stack Java Developers in this decade and accelerated growth such as every company requires a number of developers who can work on both front-end as well as backend languages. The growth came along a far way across a number of enterprises as well as startups. Even full-stack developers can eventually grow with a more experience in the entry-level stage. 
Explore Wide Opportunities 
There is no limit to the jobs of full-stack development. A person in this field can work in a variety of fields including AI chatbots, building up web pages, building up applications, and many more. As we had discussed a full-stack developer, needs to work on a number of things such as development, design as well as testing. So, firms always prefer to hire full-stack developers rather than hiring other candidates. 
Enhanced Productivity 
Full Stack Developer works on both the client-side as well as the server side. And this will allow the developer to have full control over the developed website or applications and gives him better flexibility and improved productivity. Even a number of arguments or judgments have been taken by full-stack Java developers which will provide them a better advantage in order to have more responsibilities. 
Work on Your Skillset 
One you enter into the community of full stack java developer, you will start learning a number of things on a daily basis and improve your skill set. There will be daily growth and advancement to work on basic as well as higher-level of projects. This will appreciate them and value them at a better position with perfect growth.  
How You Can Become a Full-Stack Java Developer?
There are a number of ways that allows you to learn full-stack development in a proper manner. Different resources are learning through YouTube channels, online resources such as boot camps, joining an online course, or even a person joining a training institute. 
A lot more candidates join online as well as offline training in order to succeed in their careers. But joining an offline training or course will give you more benefits as you can be able to clear your doubts while coordinating with your trainers. 
One of the well-known institutes that I knew about is CETPA Infotech which works on providing education to candidates in both technical as well as non-technical fields. They are working for over 20+ years and are known to improve the careers of 2 lakh + students with guaranteed placement assistance and 100% support. 
Also Read: Top 6 Reasons Why Java Is So Popular among Developers in 2022?
Conclusion
Hence, if you are interested to learn more about Full Stack Java Development and want to gain even better experience and insights on this, then you must join the Full Stack Java Development Course in Noida. However, before moving forward with this course, start building up your knowledge first with your own mindset. Honestly, it is the best career in the development field which provides flexible jobs with a better package.