Learn The Best Technology To Get a Professional Job in The IT Industry!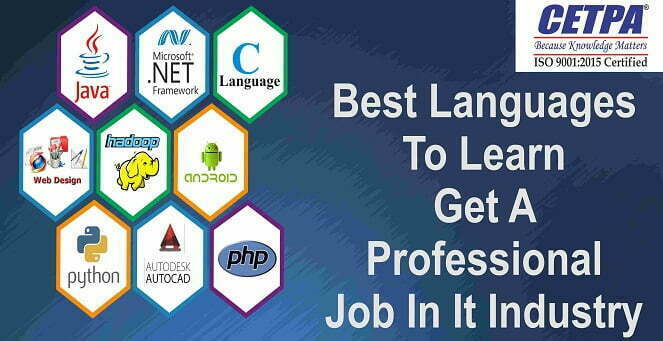 IT is the field where you have to keep yourself updated all the time to stay in the race. IT companies are looking for the programmers who are proficient in at least one programming language. If you are looking for job in IT industry, then you need to master at least one of the languages given below –
Learn Some Of The Best Trending IT Courses:
1. Java Programming Course:
Java is one of the most accepted programming language used by people all over the world. It is the programming language which is used to develop all native Android apps. It is one of the reliable and simple language. Java has staying power since it has long-term compatibility, which makes sure older applications continue to work now into the future. It's not going anywhere anytime soon and is used to power company websites like LinkedIn.com, Netflix.com and Amazon.com. Hence joining Java training course and learning Java can be the best choice if you want to make your career in IT Industry.
Read More: Let's Talk About The JAVA Program
2. Microsoft .NET Course:
Opting for.NET Program is also one of the ways to kick-start your career in the technical field. Learning .NET is crucial since it lays down the foundation to become a software application professional and it also provides competitive knowledge to survive in the competitive world of IT.
Read More: A Guide: How To Master Microsoft .Net
3. C Programming Language:
C programming language is very useful language and is the basis of modern computing. Opting for C language course can give a new direction to your IT career since it is the universal language, basis for other programming language and developers who can use it proficiently are certain to find a well-paid job.
Read More: Is C Language Training Worth Learning for You!
4. Oracle Certification:
Oracle certifications are valid credential recognized by the industry that can help one to succeed in their IT career. Oracle is the world's largest enterprise software company and to get the Oracle certification from this company is really a great credit to one's career. Learning Oracle is not only beneficial for fresher's but also for experienced people because it helps them to stay up to date on new technologies and tools.
Read More: How Oracle Is Going To Change Your Business strategies
5. Web Designing:
Web designing is an important part of IT industry. Websites are playing a crucial role in today's life. Web Designing Training has a bright future and the people are looking for the professionals who have expertise in this field.
Read More: Start Your Career With Web Designing Training
6. Data Analytics With SAS Course:
SAS stands for STATISTICAL ANALYSIS SYSTEM. SAS provides comprehensive analytics including multivariate analyses, advanced analytics, data management, business intelligence, and predictive analytics.
Read More: Best 7 Leading SAS Training Company In Delhi NCR
7. Microsoft Azure Certification:
Microsoft Azure is a cloud computing and services platform hosted in Microsoft data centers, which enables you to quickly build, deploy and manage applications through a global network of data centers. Microsoft introduced Azure in October 2008. The cloud platform was originally called Windows Azure, but was rebranded to Microsoft Azure in April 2014. Azure competes with other public cloud platforms, including Amazon Web Service (AWS) and Google Cloud Platform.
Read More: What is Azure? An Introduction to Azure
8. AWS Certification:
AWS (Amazon Web Service) is a cloud service from Amazon which was launched in 2006. It offers services in the form of building blocks, these building blocks can be used to create and deploy any type of application in the cloud. AWS is a bundled remote computing service that provides cloud computing infrastructure over the Internet with storage, bandwidth and customized support for application programming interfaces.
Read More: The Complete Guidance to Understanding AWS Certification