Scope and Future of Data Analytics in India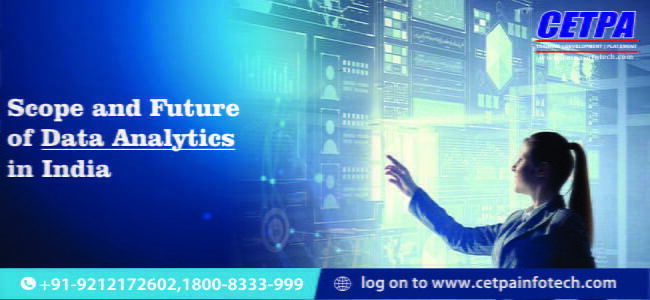 Data analytics is a process through which data is cleaned analyzed and modeled using tools. This data is then used to derive insights. The insights are then used for business related decision-making purposes.
As companies are becoming more tech-driven and fast-paced now,   data analysis professional are already playing an increasingly crucial role in businesses. Both startups and tech giants in India are adding data analysts to their workforce who are able of recording, analyzing and dissecting data to drive efficient decision-making.
Now, let's discuss the scope and future of Data Analytics in India:    
CAREER PROSPECTS AND SCOPE OF DATA ANALYTICS    
It has been estimated that data is expected to grow up to 50 times by 2020. Companies have to stay updated with the requirements of huge volumes of data so that they don't become obsolete. Therefore, experts who are well-versed in advanced analytics are considered to be crucial for organizations to adjust their business models and stay ahead of the competition. To master Data analytics, one can join data analytics training course
The scope of data analytics In India includes companies in policing, banking, healthcare, fraud detection, e-commerce, energy, telecommunications, and risk management.
JPMorgan, Accenture, Microsoft, Adobe, Flipkart, AIG, Ernst & Young, Wipro, Vodafone & Deloitte are the organizations that had the greatest number of openings for data analysts last year.
AVERAGE SALARY FOR DATA ANALYSTS IN INDIA
The average salary for a data analyst in India is Rs 10 lakhs per annum. Your salary increases with your work experience. Data analysts with more than 5 years of experience often earn up to 15 lakhs per annum. Senior data analysts with more than 10 years of experience could earn above 20 lakhs per annum. . Today, data analytics has become a big career option in India. As a result, data science course are in huge demand.
FUTURE TRENDS OF DATA ANALYTICS
Experts believe that the following trends will dominate the world of analytics in 2019-20
Analytics will play an important role in data security. Analytics are already transforming differential privacy, intrusion detection, digital watermarking and malware countermeasures.
The Internet of Things (IOT) will continue to grow rapidly. Analytics tools and methods for dealing with large amounts of structured and unstructured data generated by IOT will continue to gain importance.
Companies will voice their need of routinely monetizing their own data for financial gain.
Growth of Cognitive Analytics.
Relevance of 'Open Source Solutions' will regain momentum.
Boost in demand for Data Scientists- a hunt for people who can balance quantitative analysis skills with an ability to tell the story of their data in compelling, visual ways.
Companies would become over-critical and cautious about Data Accuracy.