SEO VS. PPC! Which One Is Best?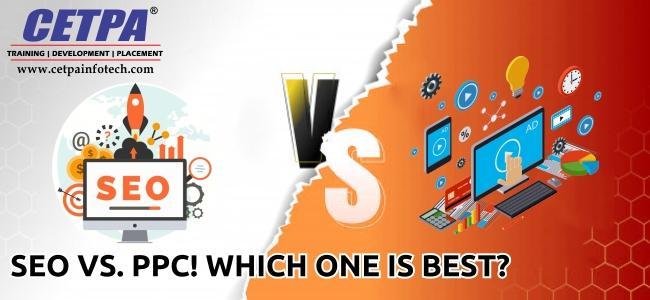 In the digital marketing world it is vital to understand which marketing strategy will produce the best results for your business. Two options are Search engine optimization (SEO) or pay-per-click advertising (PPC).
There are several marketing strategies to choose from but these two are the most significant. There are varying opinions about which strategy is better. SEO and PPC both have great digital marketing results through search engines like Google. Both are successful when implemented correctly but depending on your business objectives and marketplace one might produce better results.
In this blog, we will discuss which strategy among them is best for your business & why.
WHAT IS SEO (SEARCH ENGINE OPTIMIZATION)?
SEO is one of the most popular and frequently repeated strings of letters in digital marketing and advertising. SEO's popularity is garnered largely by the option to get started with a small or nonexistent budget. It involves a series of steps that a marketing or SEO team continually implements to give a website its best chance at getting Google's attention and keeping its merit consistent enough to win traffic and shoppers who purchase. To lean SEO, one can join best SEO online training.
WHAT IS PAY PER CLICK (PPC) ADVERTISING?
PPC stands for pay-per-click advertising. It is a special type of advertising that allows companies to identify the most popular search terms in their market and bid on the phrases and prices that make the most sense for their budget. Companies only pay when somebody actually clicks over from the ad to their site, hence the name.
BENEFITS OF SEO
Generate high-quality traffic
Free (if you do all the labor yourself)
Create digital market leadership position
Boost PR
Generate more traffic than through PPC
Continual website maintenance due to keeping up with search engine standards.
BENEFITS OF PPC
Boost traffic to a website
Increase sales
Select who sees which ads when
Control advertising costs
Analyze data on advertising performance
Increase brand awareness
Measure ROI
Minimal creative effort (can repeat campaigns)
Read More: Is SEO dead in 2020?
SEO OR PPC?
If you have the budget, it is suggested to use both SEO and PPC simultaneously. You can learn both tactics by opting for SEO online training. These two digital marketing options are a power couple and implementing them together will give you leverage over your competitors.
These two strategies work best when integrated and strategically aligned with one another making up for a successful Search Engine Optimization (SEM) strategy. Here are the benefits of combining SEO and PPC:
Visibility – Utilizing both strategies will give you more exposure on search engine results pages (SERPS). You will have control over organic and paid search results which will give your visitors the impression that you are an established business.
Retargeting – When users visit your site organically but didn't convert to a lead you can utilize PPC to retarget them. Reminding users of what they were once interested in will increase your conversion rate.
More Data – PPC advertising allows you to test the bounce rate and conversion rate of organic keywords. This way you can refine your organic keyword strategy to produce better results.
Damage control – If there is something negative about your business online you can combine the efforts of PPC and SEO to steer your visitors in the direction you want and push the negative away.
Conclusion: WHICH STRATEGY TO USE?
When deciding between SEO and PPC, what works best for you depends on various factors. PPC provides an initial start to your digital marketing attempts. To get the best out of PPC, it is crucial to obtain training and certifications. Whereas, SEO takes a bit of time to bring the most adequate leads. The results are simply unwatchable.
It is therefore essential to include both the strategies in the SEM campaign, keeping in mind the business purpose. It is necessary to have a diversified game plan for both. Knowing that each method has its advantages and drawbacks, it is hard to identify which one is good or bad. It all depends on your business and its requirements. Also, you must examine your budget and how much efforts are you ready to invest in to make your business successful on the web.