Steps To Learn Cloud Computing From Beginner To Expert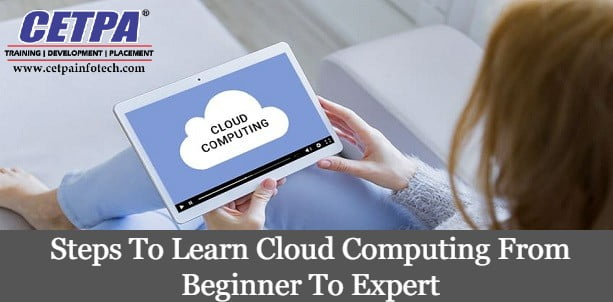 It's no news that the world of Cloud Computing is expanding day by day, it is cost-friendly, flexible, and highly secure. So much so that it is getting the attention of the whole world and rightly so!
But you might wonder what Cloud Computing is? It's essentially using a network of remote servers to manage, store and process data. So your personal laptop, computer, or local on-premise server gets by remote servers that are hosted on a data center. It helps in storage, database, servers, networking, business analytics, software, and many other work-related needs.
Some Benefits of Cloud Computing include:
● Cost friendly as one cloud platform replaces an enormous amount of technical investment.
● Provides fast speed since it consists of a vast number of computing resources
● Highly secure, as many Cloud platforms provide various tools and ways to increase security
Now that we're thoroughly familiar with Cloud Computing and let's look at the steps to learn Cloud Computing Online:
Become An Expert In The Cloud Computing With These 6 Steps
Step #1- Go through the Operating Systems
Learning operating systems provides a firm foundation. Going through tools like PowerShell, Command-Line, and Registry Editor is not enough so having ample knowledge about Linux is equally essential. The Linux operating system is very important to approach Cloud Computing. Consider learning Debian, Ubuntu, Linux Mint, Centos 7 Desktop, and others before starting with Cloud Computing.
Step #2- Learn Virtualization
Virtualization is exceptionally important as it allows one to create virtual environments. These virtual environments contain various amounts of RAM, CPU, and disk space. Virtual Box or VMware Desktop is probably the best option for this purpose. Consequently, between these two, Virtual Box is better as it is capable of running on both Linux and Windows. Make sure you experiment with it as much as possible.
Step #3- Get A Hold Of Networking Basics
In order to truly grasp Virtualization, you'll have to get a hold of the basics of Networking. Learning the basics of networking is highly beneficial for Cloud Computing. This is so because it helps in putting everything together that comes under the umbrella of computing. In the basics of networking, you will learn how different servers from all over the globe communicate with each other.
Step #4 Get To Know About Storage
More than often administering systems require storage hence it's beneficial to know about it. You can go through iSCSI, NFS, Ceph, Fibre Channels, LVM, RAID to properly understand storage.
Also Read: Kick-Start Your Dream Career In Cloud Computing
Step #5 Begin with Amazon Web Services or Other Cloud Platform
Massiv e Cloud Companies such as Amazon Web Services are built on the concepts of Virtualization and the basics of networking. Hence, after going through these concepts you can start with the free tier offered by Amazon Services. You can also create personal Labs for as many projects and learn new technologies as they come in order to truly be an expert in this field. The point is to enhance your skills and learn new things as much as you can.
Step #6 Last But Not The Least, Automation
Automation helps in configuring services as well as general management. You can get familiar with Chef, SaltStack, and Puppet. Once again, the more you learn, the easier everything will get.
Now that you know the steps required to become an expert in Cloud Computing, get yourself enrolled in our Cloud Computing Online Training program today. We provide the best and the most trusted Cloud Computing Training in Noida. Moreover, after the completion of the course, we also provide placement assistance, so that you can study with no worry!
Hope this helps!