Top 3 Most Trending Online Training Courses In 2020
Posted by

Date

June 3, 2020

Comments

0 comment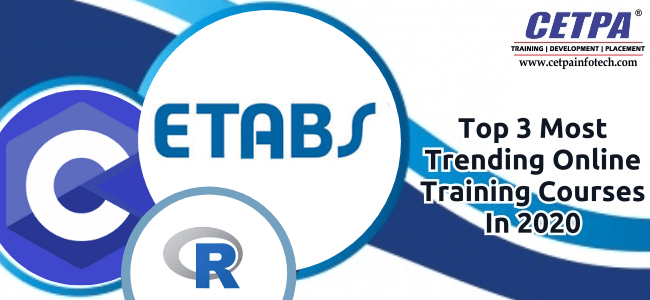 Nowadays online training programs are very prevalent for many good reasons like easy internet access, low data rate, and thanks to smart phones they are really good at this time. Thanks to technology, today data transfer has become very convenient.
You are probably here to know some best online training courses that you might be interested in. In this article, we are going to list-down 3 most popular online training courses that you can avail of for better career opportunities.
Along with the C language online training, below are the top 3 most trending online training courses:
1. C LANGUAGE ONLINE TRAINING COURSE
C is one of the oldest and most popular programming languages which have been used for a long time and even popular languages such as Java/C++ are developed with the help of C. It is the foundation of many programming languages used today.
Despite the fact that it doesn't feature OOPs and many other advanced programming features it is still one of the most loved programming languages that you can learn to get a good job role in the industry.
Apart from this, it is very easy to learn. It is one of the most popular programming languages for those who want to make their career in the IT industry. C is used in designing the software like compilers, operating systems, databases, graphical related applications, network devices, GUI applications. UNIX Kernel and adobe Photoshop are a few applications that are developed using the C language.
Talking about the Pay scale, in India, you can manage to earn around 20-30 lakhs per annum, though, it may depend on how skilled you are. Getting a job without any specialization is not an easy task, hence, training programs are recommended by experts in order to get a decent job in the market. With the training program, you can avail of certification and placement assistance that plays a very important role and sets you apart from the others.
2. R PROGRAMMING ONLINE TRAINING COURSE
R is an open-source programming language with an extensive range of libraries and features that is used for statistical analysis. This language is primarily used in data science (today data science is one of the most sought after a career which is growing exponentially).
It features more than 10000 packages that make it popular among the developers working for statistical analysis. Seeing the trend of data science in the current scenario the demand for the professional having a decent knowledge of R programming is high in demand.
Top companies are approaching such developers and providing hefty amounts of salary for the R developers.
Do you know, R is a strong competitor of the most loved programming language Python? R programming online training is high in demand as it is used in the field of data science and strongly competes with Python.
 R has continuously been praised for its great features and flexibility.  This is another language that you could learn during this time to work in the leading industries.
Today you can easily find the R programming's online courses with the facility of placement assistance. For the best training program, you could opt the CETPA's online R training program as they have the best and experienced team and have many years of experience in this field.
3. ETABS ONLINE TRAINING COURSE
As you know, ETABS is used in structural analysis. It comes with the integrated system to work with the largest and intricate building models and designs. ETABS is very popular in the industry, therefore, increasing the number of ETABS experts.
In our list, ETABS online training program is a very popular course that you could choose from if you come from civil engineering. This is a CAD tool or software that you can learn within a few months.
The course duration may vary depending on how much knowledge you have. Analyzing the current statics, the training program is highly recommended in today's competitive environment as certified aspirants who have practical knowledge and hands-on experience on this tool are preferred over the others having a good academic score.
There is a good reason for that, your academic learning focuses on theoretical explanation rather than practical knowledge and work experience. This is a field where practical knowledge is extremely crucial and if you have certification by a well-known institute like CETPA, then it would be like icing on the cake.
CONCLUSION
In this article, we have described a popular or trending online course that you can avail of during your free time. These courses will help you build a strong CV and boost your career. Whether it is C programming online training or other courses, having hands-on training on such topics will always benefit you. Utilize your time by enrolling to online course today.