Top 5 Skills You Must Have To Do A Job As A Data Analyst-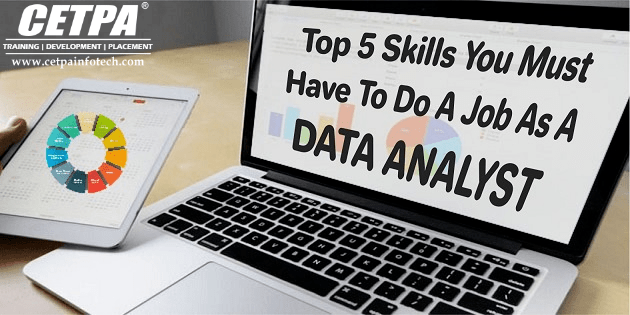 The demand for data analytics is growing as we take our steps towards the digital world. Companies today realize the importance of a data-driven business strategy, and they are in need of talented individuals to provide insight into the information stream that is constantly collected, and this can be done only with the help of data analytics training professional. So, let me introduce what is data analytics online training?
By collecting, cleaning, and interpreting data sets, data analytics online training can answer questions or give answers to problems. There are many career opportunities for data analytics training professional, including business, finance, science, medicine, and government
Best five skills to become a best data analyst –
● Critical Thinking-
It can often be challenging figuring out what questions to ask in order to find answers in data, which means starting with a broader picture. Data Analysts training should have an analytical mindset in order to succeed. As a data analytics training professional , you are responsible for finding and synthesizing connections that are often not obvious. You can try various strategies to improve your critical thinking skills, even though this ability is somewhat innate.
● Data Visualisation is important aspect for data analytics training-
In order to effectively convey your message and keep your audience engaged, you need to be able to tell a compelling story using data. You will have a difficult time communicating your findings if your findings can't be quickly identified. When it comes to your data, data visualization can make or break your impact. The findings of analysts are presented in a clear, concise manner via eye-catching charts and graphs.
Also Read: Why Data Analytics Learning is Popular in Engineers?
● Presentation Skills is critical for data analytics training –
Data visualization and storytelling skills comes to go together. Although presenting isn't always a natural skill for everyone, that's okay! The nerves of even the most experienced presenters can get the better of them sometimes. Practice until you find your groove, as with anything else. Besides focusing on the audience rather than on yourself.
● SQL and Machine Learning is must for data analytics training-
A data analytics online training may find it most important to know SQL, or Structured Query Language since it is a universal database standard. It has the ability to handle large datasets in a way Excel simply cannot handle. The first thing comes to your mind when you think of Excel is probably a spreadsheet, but it offers so much more than that. Even if scripting languages like R and Python are ideally equipped for huge data sets, sophisticated Excel approaches like employing macros are still extensively employed for thinner and lighter analysis.
● R or Python–Statistical Programming
Python or R can accomplish everything Excel does – and ten times faster. Python and R perform functions Excel cannot. Probabilistic scripting languages are effective tools for doing complex analysis and data analytics online training on huge data sets. They are also widely used. For a data analyst training it is truly effective that one should master at least one of these languages.
These are the finest five suggestions for landing a data analytics online training career, and if you're having trouble, we suggest a solution: you'll require data analytics training. CETPA is one of the most trustworthy institute for data analytics training in Noida.
● CETPA is best awarded institute for data analytics training in Delhi.
● CETPA gives their students an opportunity to appear in placement drives.
● CETPA data analytics course content is totally industry based.
● After data analytics course completion, you get an opportunity of doing live projects under working professionals.
● CETPA certificates are globally recognised.
● It is often referred to as Excel's "graduated" version.