Tips To Start A Career In Web Designing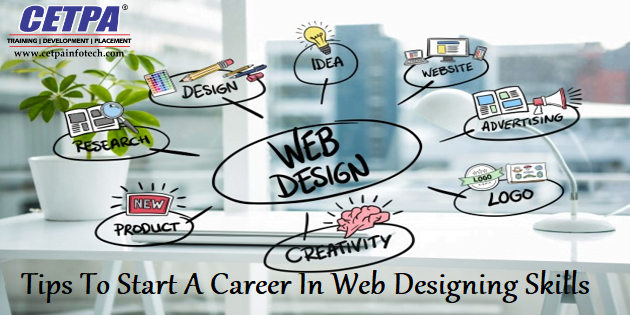 Web designing is the demand of every worker across the world because everyone wants to grow their business online. If you want to grow your career in web designing training then it is a very good and money-making decision. So let's first see explain to you about web designing training?
An online website layout is a design that is displayed on the internet, called web design, and the process of customizing this is called web designing training. Web design is usually for windows or we can say that it is for desktop purposes, but from 2010, it is also designed for the mobile or tablet.
A web designing online training contains many things like how it will look after the development, its layout means how its information is structured and categorized, what will be the content for the website, colors, font, images, etc. A website should be attractive and easy to use.
Tips to start a career in Web designing skills –
● Visual design refers to the appearance and functionality of digital products. Also paramount are the design principles applied, including typography, web fonts, and color palettes, So having a good understanding of visual design is important.
● Design software-
The right tool is essential for every web designer. Adobe Photoshop, Sketch, and Illustrator are some of the design software programs learners need to be familiar with. Your expertise in design software will enable you to make a website that's up to industry standards and meets the needs of users.
● Search Engine Optimization (SEO) is basic for web designing training – Search engine optimization should be a skill all web designers should possess. Your website must be optimized for search engines in terms of its structure, speed, layout, and performance. It will also ensure the design of websites that produce the desired results if they gain a thorough understanding of how search engines work.
Also Read: Advantages Of Web Designing Learning In Today's Competitive World
● Web designing training needs digital marketing skills-
Web designers need to understand the various strategies involved in digital marketing. Your website will be tested and you will be able to identify areas that need to be improved as a result. It will also allow you to design a website that is functional and up-to-date. Digital marketing training is an important part of web designing online training.
● Coding skills are important for web designing training-
It is also expected that a web designer knows how to code. To put content on a web page with structure, he must be proficient with Hypertext Markup Language. As a designer, you should also be aware of how to put headlines, footers, paragraphs, and graphics on a website. Therefore, with the help of HTML, you can learn to make proper projects. A website's formatting and styling are controlled by CSS, which is an HTML code. By using CSS, you can adjust the color scheme, font size, and background color of the web page. The design of your website can be influenced by the creativity you have.
JavaScript is a programming language that is not for everyone, but if you know how to use it you can create an interactive site. Using JavaScript considerably boosts your competitive edge.
So learning and understanding of basics of HTML and CSS are indeed and just by theoretical knowledge you cannot create a Web design effectively. Web design needs more than conceptual knowledge for this you join web designing online training and CETPA is one of the best institutes for web designing training in Noida.
● CETPA is an ISO-Certified institute.
● CETPA web designing course content is industry-based.
● CETPA trainers are industry experts.
● After the completion of the web designing online training, you get an opportunity to work on live domains.
● CETPA assures their students 100%placement assurance.