Beginner's Guide: How to Learn Web Designing at Home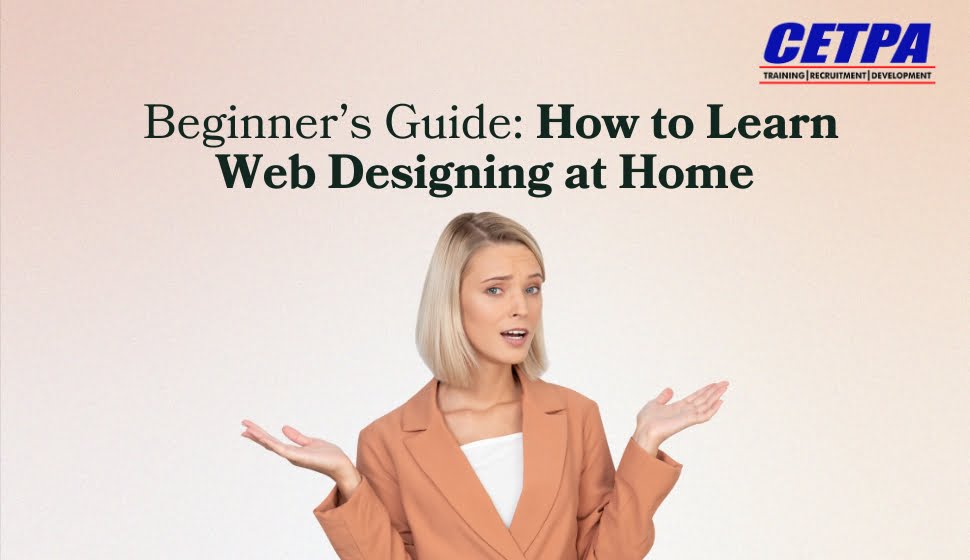 Pursuing a field and becoming a professional is challenging once you find it difficult. Similarly, Web Designing is not difficult to understand, it is just your responsibility to learn it thoroughly from scratch and focus on adapting its fundamentals. In earlier times, no one gave much preference to Web Designing, all website owners just focused on the content part. But now we find out that creating a user experience is much more important than content, so it is necessary to focus on Web Designing. Here, in this write-up, we will look at the things that resist the concept: How to learn Web Designing at home/office/free time? 
Even many freshers or students sometimes misunderstood that there is not much scope in the field of Web Designing. However, it is not true, it is just an assumption. The truth is that learning web designing will contradict things at a higher level, and you will get the opportunity to work at a better workplace. For this, not only you must have Web Designing Training in Noida but you should also acquire your soft skills. 
What Things You Must Explore While Learning Web Designing? 
Steps Where You Must Focus on:
Understand the fundamentals of Visual Design 

Learn the Basics of HTML

Start learning CSS.

Explore the foundation of UX Design 

Aware of UI design principles

Learn to create layouts. 

Know typography. 

Start working on a project.
Elaborate on These Steps More Precisely:
Understand Key Concepts of Visual Design: A visual design includes lines, shapes, textures, colors, and grids. When you start learning about designs, you will learn how to create order and balance in a layout. It helps you to understand basic shapes such as squares, circles, and triangles. Then, it comes to the texture part whether to make it rough or smooth. Another thing is that it includes the color combination and will help to understand Grids systematically. 
Basics of HTML and CSS: HTML is a markup language that is capable of providing direction about the content, images, navigation, and other elements of a website. It will help you to generate the layout of a website in a better way and help you to learn about header tags and the hierarchy of the content. To make styling and visual displays, you should start learning CSS. It will work on knowing about padding, settings, fonts, and creating grids for a better website template. 
Learn UX Design Foundation: While working and creating websites, many of us think that UI and UX are both the same but honestly, they are not. UX is also about creating a better user experience that brings magic into your website. It works on engaging the people more with the website and its functionality. A UX will simply provide the right direction to users using elements, blocks, and other paddings. 
Before we move forward, let me interrupt. I just want to say that learning web designing at home is not difficult. Just you first need to:
Start taking regular classes
Interact with trainers and clear doubts
Start creating elements and layouts of a web page
Make things clear and 

visible.
Create a 

portfolio.

Start applying for Jobs. 
Familiarize yourself with UI Design: UI refers to the user interface which is a significant part of a website. Using the UI elements, it is possible for an individual to put actions into real-life motions. UI basically has 2 principles: create intuitive interfaces and better usability. 
Understand the Creation of layouts: Creating better and more interactive designs will make the path easy for users and create a smooth flow throughout their lives. Two common patterns are Z-patterns and F-patterns which work on creating a smooth flow of patterns and visuals. These patterns will work on maintaining the text and will create an intuitive interface throughout the text. 
Put Your Knowledge into Project: Once you feel that all of your concepts have been clear and you have completed your Web Design online course, then you must start putting your knowledge into doing a project. A project will help you to put things in an accurate manner and will improve your practical skills.   
Build Your Portfolio: At last, after doing 2-3 projects, start building your portfolio and mention all your skills and knowledge in that. Once you add projects to that, it will be helpful for you to impress your employer and you get the job with a better income and reputation. Sometimes it becomes difficult to create a creative portfolio, so for that, you can take the help of CETPA Infotech trainers. 
Also Read: Tips To Start A Career In Web Designing
End Words 
There was a time when learning these types of skills became difficult for individuals but when you have a deep understanding of HTML and CSS, it becomes possible for you to code and create a web design. But today everything becomes easy and with the help of Web development tools, we can take their help and create a better version to put in our website and launch on the website. Honestly, it is not difficult to learn Web Design at home without facing any kind of issues. For complete information about the Web Designing Course in Noida, you can connect with our experts.