Summer Training for College Students: Tips for Choosing the Right Program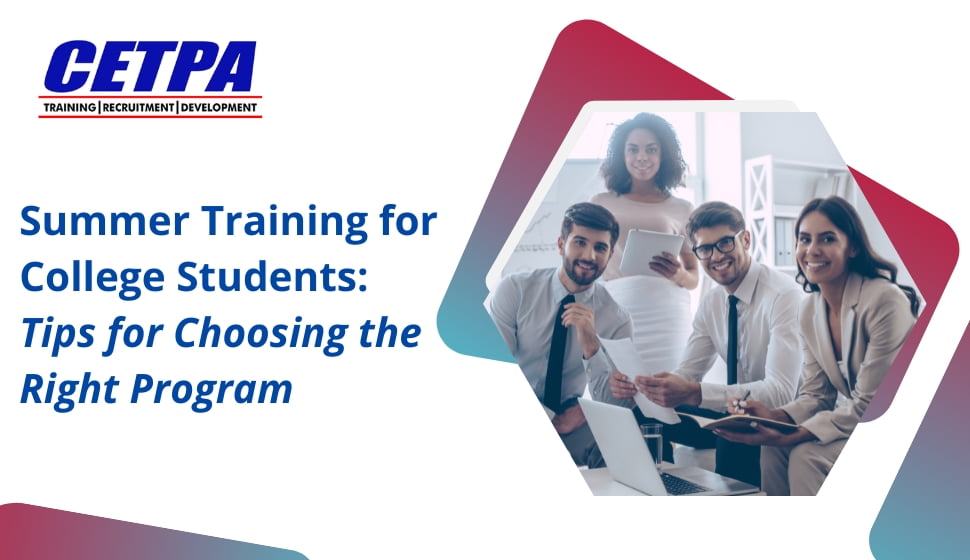 Summer is here on the way! Academic year in colleges is coming to an end and this is considered to be an exhausting time for students. Everyone wants to get placed and wants to start their career with a better opportunity, environment, and a better working place. To make yourself stable and compatible with your position, you must go ahead and choose the right program for yourself. 
More than 10 lakh students pass out every year, 30% of them get the job by campus placement, 10% go for course, rest some go for training and rest become jobless. Honestly, students who go for the Summer Training Internship program got better placement as before the job, they had already gained industry experience. In this write-up, we will give you some tips to choose the right Summer Training Program in Noida. 
Tips & Tricks to Choose the Right Summer Training in Noida 
Choosing the right program, whether it's a software application, an educational course, or a fitness program, can have a significant impact on your success and satisfaction. Here are some tips to help you make the right choice:
Define your goals.
Before starting your search for a program, clearly define your goals. What do you want to achieve? Are you looking to learn a specific skill, solve a particular problem, or improve your overall well-being? Knowing your goals will narrow down your options and make it easier to find a program that aligns with your needs.
Research extensively
Take the time to research different programs that are available. Read reviews, compare features, and consider the reputation and track record of the program or provider. Look for testimonials or success stories from individuals who have already used the program. This will give you a better understanding of what to expect and whether the program is suitable for you.
Consider your learning style. 
Everyone has a unique learning style. Some people prefer visual learning, while others thrive in hands-on or auditory environments. Consider how you learn best and choose a program with CETPA Infotech that caters to your preferred learning style. For example, if you're a visual learner, look for programs that provide visual aids, diagrams, or videos.
Evaluate the Summer Training Curriculum or Content:
 If you're considering an educational or summer training institute in Noida, carefully evaluate the curriculum or content. Check if it covers the topics you're interested in or if it provides the necessary knowledge and skills to achieve your goals. Look for a well-structured program that progresses logically and offers comprehensive material.
After a lot more research, I have mentioned these tips here that allow an individual to choose the right Summer Training program in Noida. These all tips connect with a well-known institute that justifies all of its characteristics. CETPA Infotech is one of the best institutes in Noida where you will get 100% assistance in contrast to the courses or other training programs. CETPA offers 6-week Live Project Summer Training program or 8 weeks or 12 weeks where students will work on their implementation skills and improve their practical knowledge. 
Assess the level of support.
 Determine the level of support provided by the program. Will you have access to instructors, mentors, or a community of fellow participants? Having support can greatly enhance your learning experience and provide guidance when needed. Consider whether the program offers avenues for asking questions, seeking clarification, or receiving feedback.
Consider your budget. 
While cost shouldn't be the sole determining factor, it's essential to consider your budget when choosing a program. Some programs may be free or low-cost, while others require a significant investment. Assess the value you expect to receive from the program and weigh it against the cost. Remember to consider any additional expenses, such as materials or subscriptions, that may be associated with the Summer Internship Training program.
Seek Recommendations on Summer Training in Noida
Reach out to your network for recommendations. Ask friends, colleagues, or mentors if they have any program suggestions based on your goals. Personal recommendations can provide valuable insights and help you discover programs that you may not have found otherwise.
Trial Periods or demos
 If possible, take advantage of trial periods or demos offered by the program. This will allow you to get a firsthand experience of the program and determine if it meets your expectations. Use this opportunity to assess the user interface, ease of use, and overall suitability.
By following these tips, you'll be well-equipped to choose the right Summer Training program in Noida that aligns with your goals and enhances your chances of success. Remember to trust your instincts and take the time to make an informed decision.
All the above points justify how an individual chooses the Right Summer Training and what things can help him to make the future better.