Unknown Facts Need To Know About Machine Learning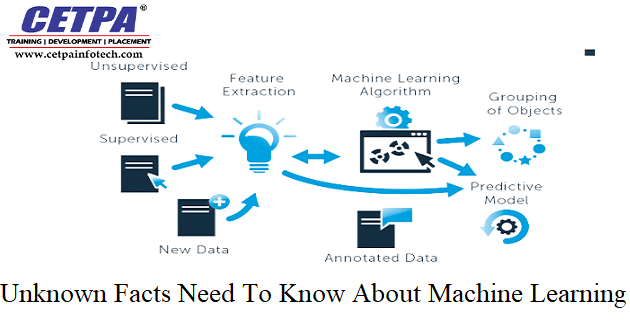 In a world where everything is digitized day by day. Where everything is just on a click and we get our queries resolved in a minute. Machine learning online training is a field of AI (artificial learning course) and CS (computer science) which concentrates on the usability of algorithms and data to mimic the idea by which people learn, continuously increasing its efficiency. Real examples of machine learning online courses are self-driven cars, Chatbots, Siri, Alexa google assistance, which we are using on daily basis.
The machine learning online training begins with the observations or data for example:- instructions or direct experience to search for patterns in data make intelligent decisions in the future based on examples that we give. The main objective behind that is to make computers able to learn automatically with minimum or no human interference
Most popular methods for machine learning:-
Supervised machine learning training algorithms can use appropriate functions to apply what they've taught in the previous to fresh data and make predictions. The training algorithm creates an assumed function to generate predictions about the sample points based on the examination of a known testing set. After enough training, the computer can provide objectives for any input. The learning algorithm can also evaluate its output to the accurate, desired outcome and detect faults, allowing the model to be modified as needed.
Unsupervised machine learning techniques, on the other hand, are utilized when the data being trained should be classed nor labeled. Unsupervised learning investigates how unlabeled data can be used to deduce a function that describes a hidden pattern. The computer does not determine the correct outcome, but it does analyze the data and can deduce embedded information from unsupervised learning using datasets.
Semi-supervised machine learning algorithms fall midway between supervised and unsupervised. This strategy can significantly enhance learning effectiveness in computers that adopt it. Semi-supervised learning is typically used when the acquired labeled data necessitates the use of skilled and appropriate resources to train/learn from it.

Applications of machine learning training:-
1. The Internet and Social Media (Facebook)
One of the popular machine learning training applications is self-programmed friend tagging ideas on Facebook or any other internet media options. FB applies face and image recognition to automatically search for the face of the individual which relates to the databases and then recommends the tag option.
2.Traffic Warnings:-
How does Google Maps recognize you're on the shortest path even though there's a lot of traffic? As a result, it is based on a variety of criteria, like how many people are currently accessing Google Maps, historical data for that route, and real-time algorithms. Even if you use Google Maps, you give the app permission to utilize information such as:
Your current location, Your typical travel speed. Answers to inquiries such as tracks are busy or not? Date, time, and any special events. The application captures and stores all of this information. AI and machine learning algorithms use this data to draw the correct conclusions and provide you with accurate information.
Also Read: 5 Important Skills For Becoming An Machine Learning Engineer
3.Personal Virtual Assistants (VPAs):-
Virtual personal assistants include Alexa, Google, assistance, and Siri Now, to name a few. When asked for advice over the phone, they help, as the title indicates. All you have to do is enable them and ask a question like "What is my timetable for today?"Google Assistant or any other assistance searches for information to remind your related topics or sends a request to different services to collect data.
You may even give helpers specific instructions, such as "Send a message to my friend saying hello at 6 a.m. in the next morning," or "Remind me to wish birthday to my friend after tomorrow."
The importance of machine learning online courses cannot be underestimated.
Why opt for machine learning certification?
● Machine learning offers you a career full of opportunities.
● Machine Learning is the future's skill.
● Possibilities for advancement and advancement in your career.
● Work on real-world problems.
● Salary Increases.
But remember that you have to be a little handy while choosing a training institute. Because a course is only successful if you have clear concepts and have good practical knowledge.
Best training institute for machine learning certification:-
● CETPA is the best training institute for machine learning for more than 10years.
● CETPA is trustworthy for machine learning certification at Noida.
● CETPA provides you with live lab exposure.
● CETPA assures you 100% job consultancy in a machine learning course.
● CETPA machine learning training course content is industry-based.
● CETPA is ISO-certified.
● CETPA has tie-up with top companies for the placement of students.