Which Is The Best Azure DevOps Certification Vs AWS DevOps Certification?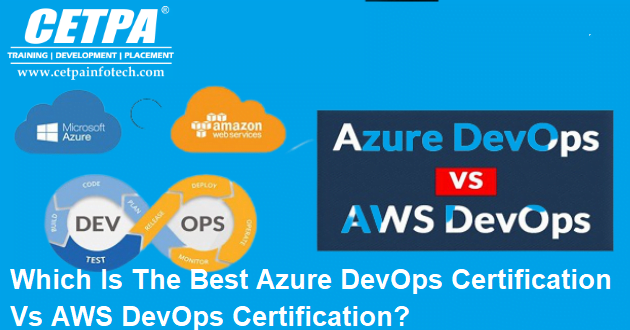 Before understanding the concept of Azure DevOps, we should know what is DevOps, so let's discuss what is DevOps training? DevOps stands for Dev for development and Ops for operation. DevOps allows uniformly distribute department responsibilities – IT operations, quality engineering, development, and protection – to enhance and for better processing of product, more stable products. DevOps is the association of individuals, automation, and methods to constantly give goods to users. by selecting a DevOps trend with DevOps modes, accessories, organizations obtain the capability to perform better to the user's need. Now you can understand the DevOps better. Now let's start the actual discussion that Which Is the Best Azure DevOps Certification Vs AWS DevOps Certification?
What is Azure DevOps training?
Azure DevOps online training is a service or software platform presented by Microsoft that enables an end-to-end encrypted DevOps toolkit for designing and expanding software. The Microsoft Azure training also helps in blending with the best growing tools on the business market and is the best option for creating a DevOps tool kit. In the DevOps team, we find that a no. of users have to find Azure DevOps a good fit for their requirements whatever is the cloud, language, or platform.
Benefits of doing certification in Azure DevOps training-
● Flexibility In The Workplace
You are completely incorrect if you believe that Microsoft Azure DevOps Certification is just beneficial if you want to work in cloud computing.
Azure DevOps Certification career choice holds far more surprises than you might anticipate! Most organizations have already moved their burden to the cloud service in an attempt to remove their staff from any tedious activities. All of these professions now require a cloud computing certification: AI engineer, AI engineer, cloud administrator, security engineer, developer, data engineer, solutions architect, and DevOps engineer.
You can select a role in management if you have a Microsoft Azure DevOps Certification.
● Engaging Salary Package
An authorized Azure DevOps online training demonstrates that you possess specific analytical expertise rather than general abilities. In comparison to other IT fields, certified cloud specialists are more likely to be recognized.
The average annual pay for Azure Developers is expected to be $1326,7658. An Azure Architect earns an annual income of $1532,869 on average. By taking extra training and becoming a senior Azure expert, you can raise your compensation.
Take into account that salaries can be distinct and entities and an Azure DevOps expert can get anything
Benefits of doing certification in AWS DevOps training –
Appreciation For Your Attempts And Validation Of Your Qualities:
An AWS DevOps certification aids the potential to detect the potential and aptitude of skilled employees. The major benefit of this AWS DevOps training is a digital badge. Certified professionals are awarded a digital emblem that shows their certificate achievement. These credentials can be presented on your social networking platforms and newsletters, as well as providing fast entrance to certain AWS DevOps Certification Lounges and AWS Summit events.
More Freelancing Works:
Having an AWS DevOps online training is extremely beneficial to freelancers. It expands the series of tasks they are responsible for. As previously said, AWS DevOps certification grants access to digital certificates, which enhances their legitimacy in the eyes of customers. When used correctly, digital badges can be a wonderful tool for potential marketing. It's a terrific method to work from home while also earning money by demonstrating your expertise to potential clients.
Conclusion ;
Both the courses – Azure DevOps Certification and AWS DevOps Certification offer you beautiful career opportunities and have their benefits in their places. It depends on you, whether you choose DevOps training or AWS online training. Both are in high demand, but the most important thing is to choose the best training institute for the courses so that you can clear concepts well.
Best institute for the Azure DevOps Certification and AWS DevOps Certification:-
● CETPA is the best-known training institute for the Azure DevOps Certification in Noida.
● CETPA is the most trustworthy training institute for AWS DevOps training and well known for providing quality education in the IT sector.
● CETPA is ISO-certified
● In CETPA, students get the opportunity to work on live projects under industry experts.
● CETPA provides you the lab exposure which is important for the AWS DevOps training.
● CETPA has tie-up with MNCs for the placements.
● CETPA provides you 100% job consultancy regarding the Azure DevOps Certification.