What Is Ethical Hacking ? Types Of Ethical Hacking Certification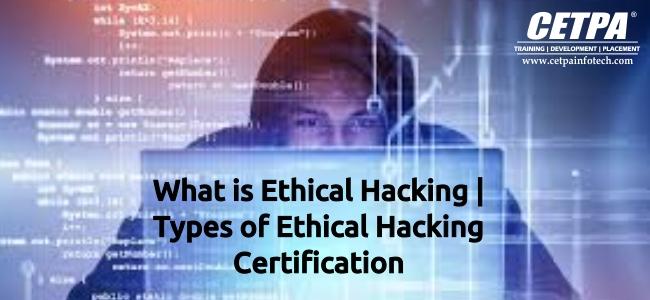 WHAT IS ETHICAL HACKING?
Ethical Hacking, also known as Penetration Testing is the method of intruding/penetrating into system and networks to search for threats, vulnerabilities in those systems which a malicious attacker may discover and exploit causing loss of data, financial loss or other significant damages. The objective of ethical hacking is to enhance the security of the network or systems by fixing the vulnerabilities discovered during testing.
WHO IS ETHICAL HACKER?
The ethical hackers are people who hack into the computer network to examine or evaluate its security rather than with an aim for maliciousness or a criminal act. They are also known as white hat hackers who use hacking methods legitimately and lawfully.
ETHICAL HACKING CERTIFICATION
Ethical hacking certification is a qualification obtained by evaluating the security of computer systems, using penetration testing methods. This certification qualifies the individual as a certified ethical hacker. There are various benefits of obtaining the ethical hacking certification. You can even go for Ethical Hacking online Course which will help you in clearing the exams.
Let's discuss various Ethical Hacking Certification:
CERTIFIED ETHICAL HACKING CERTIFICATION
CEH is one among the excellent, most popular and best certification programs that can be given to ethical hackers. A person who has obtained a certification in this course would be a skilled professional who knows how to look at vulnerabilities and weaknesses in target systems and uses the same knowledge and tools as a malicious hacker but in a more lawful and legit manner so as to assess the security posture of a target system. To obtain this certification you can join Ethical Hacking online Training Course.
GIAC PENETRATION TESTER
SANS GPEN is another type of certification given under ethical hacking. SysAdmin, Networking, and Security (SANS) is an institute which provides various course and certifications with GIAC Penetration Tester (GPEN) being the most popular one. The main purpose to learn under GPEN are advanced password attacks, attacking password hashes, exploitation fundamentals, initial target scanning, vulnerability scanning, pen-testing foundations, penetration testing using the Windows command line and power shell, moving files with exploits, reconnaissance, and web application attacks.
OFFENSIVE SECURITY CERTIFIED PROFESSIONAL
OSCP has been only about 10 years, but it has already gained good reputation for durability and toughness. The OSCP is designed to show the students' practical, accurate, precise and clear understanding of the penetration testing process and life-cycle through a strenuous twenty-four (24) hour certification exam.
FOUNDSTONE ULTIMATE HACKING
This is the practical penetration course available. Under this course you'll discover how hackers and evil-minded malefactors analyze and develop target vectors directed at your critical assets, cultivate the policy underlying the search for flaws before they become a security threat, and help to expand the mind-set of a malevolent attacker and recognize the actual risk posing to your organization.
CERTIFIED PENETRATION TESTING CONSULTANT
If you are looking to be professional who is supposed to be responsible for securing computers, then CPTC is the certification for you. This certification teaches you advanced expertise with in-depth penetration testing and auditing security controls including physical and user security. This certification will teach you the concept of penetration testing.
Read More: Benefits Of Ethical Hacking Certification Course
CERTIFIED PENETRATION TESTING ENGINEER
CPTE is a certification which qualifies you to have expertise and knowledge of five main information security components: data collection, penetration testing, enumeration, scanning, exploitation and reporting. Also, CPTE guides you on how to hack and also shows you how to become an ethical hacker.
CONCLUSION
We live in an era where attacks occur from any place at any time, therefore, we never know how competent, well-funded, or pertinacious the threat will be. With the help of these certifications, you will be wrapped up in a hacker's mindset, evaluating not just logical, but also physical security, exploring every conceivable point of entry to find the weakest link in an association. The Ethical Hacking certifications can open numerous doors for you in the professional domain. So, join ethical Hacking Training & start your journey.