Which Has Better Career Opportunities, AI Or Data Science?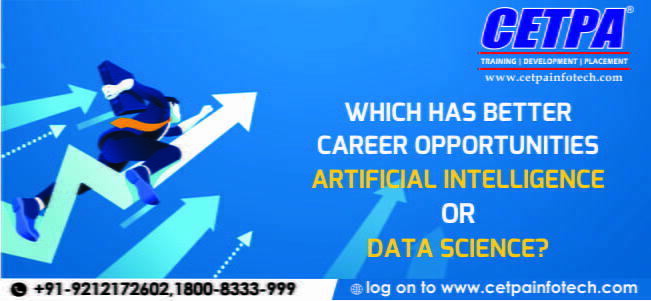 Modern technologies like machine learning, artificial intelligence, big data, and data science have become the buzzwords which everybody talks about but no one fully understands. They seem very complicated to a layman. All these buzzwords sound alike to a student from a non-technical background or business executive. People often get confused by words like ML, AI, and data science. In this article, we will explain AI and Data Science in simple words so that you can easily understand the difference between them, their scope and career opportunities and how there are being used in business.
WHAT IS ARTIFICIAL INTELLIGENCE (AI)?
Artificial intelligence (AI) refers to the simulation of the human brain function with machines. This is accomplished by forming an artificial neural network that can show human intelligence. The fundamental human functions that an AI machine performs include learning, logical reasoning and self-correction. Artificial intelligence is a broad field with various applications but it is also one of the most complex technology to work on. Machines inherently are not smart and to make them perform, we need a lot of computing power and data to enable them to simulate human thinking.
Artificial intelligence is divided into two parts, general AI and Narrow AI. General AI means making machines intelligent in a broad array of activities that involve reasoning and thinking. Narrow AI, on the other hand, includes the use of artificial intelligence for a very particular task.
WHAT IS DATA SCIENCE?
Data science is the extraction of relevant insights from data. It uses different techniques from many fields like machine learning, mathematics, statistical modeling, computer programming, pattern recognition, and learning, uncertainty modeling, data engineering and visualization, data warehousing, and cloud computing.
Data science is the most extensively used technique among ML, AI, and itself. The practitioners of data science are usually skilled in statistics, mathematics, and programming (although proficiency in all three is not required). Data scientists solve complicated data problems to bring out insights and correlation relevant to a company
THE DIFFERENCE BETWEEN ARTIFICIAL INTELLIGENCE AND DATA SCIENCE
Artificial intelligence is a really broad term with applications varying from robotics to text analysis. Machine learning is a subset of AI that centers on a narrow range of activities. Data science isn't precisely a subset of machine learning but it applies ML to analyze data and make forecasts about the future. It blends machine learning with different disciplines like big data analytics and cloud computing. Data science is a practical application of machine learning with a complete focus on solving real-world problems.
SCOPE OF DATA SCIENCE                                                                  
Identifying opportunities, constructing better business goals, and making efficient decisions are some of the best applications of data science. This is why professionals who can analyze and derive insights from data have become more important than ever today, which has lead to an increase in demand for Data Science training in Noida.
The scope of data science In India includes organizations in healthcare, banking pharmaceuticals, biotechnology, e-commerce, energy, telecommunications, and the automotive industries.
MOST LUCRATIVE SKILLS IN DATA SCIENCE
To rise to the top in the field, professionals will need to master the following areas, which they can do by joining, Data Science Online Training in India:
IT fundamentals (data structures, computability, algorithms, and complexity)
Proficiency in Multiple Coding Languages (R, C, Java, C++. PHP, Ruby, Perl, Python)
Advanced understanding of Probability, Math, and Statistics
Data Modeling and Evaluation
Data Mugging
Data Visualization
Communication and Decision-Making
SCOPE OF ARTIFICIAL INTELLIGENCE
The ultimate effort is to create computer programs that can resolve difficulties and achieve goals in the world, as well as humans. There is scope in developing the machines in game playing, speech recognition machine, language detection machine, computer vision, expert systems, robotics and many more, which has again lead to increase in demand for Artificial Intelligence Training in Noida
The scope of artificial intelligence In India includes jobs at public and private sectors which are American Association for Artificial Intelligence, European Coordinating Committee for Artificial Intelligence and many more.
MOST LUCRATIVE SKILLS IN ARTIFICIAL INTELLIGENCE
To rise to the top in the field, professionals will need to master the following areas, which they can do by joining, Artificial Intelligence training in Delhi:
Maths and Statistics
Python
Java
Hadoop
Data Mining
SPARK
CONCLUSION
It cannot be concluded which field has better career opportunities, Artificial Intelligence or Data Science as both the fields are different in their own ways and both require a different skill set. The choice of filed further depends on your education, background, skills, qualification, specialization and your area of interest.
Enquire Now