Why Industry Exposure Is Required For Every Engineering Student?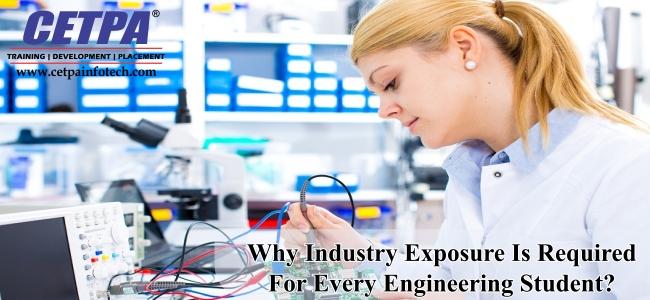 Enrolling for IT Training is one of the excellent ways to add skills to your resume in a short period of time. Training for engineering students has been around for quite some time now. If you are a student who is in the final year of college, then it's time to make some serious decisions, and enroll for Industrial training in Noida which is going to have a long-lasting impact on your life. By joining such kind of training programs, you will not only boost your technical skills but also gain necessary corporate exposure.
If you are an intelligent person, you'd already taken the benefit of the best Industrial training in Noida throughout your college and learned skills that make you a sought-after candidate for a job that you always wanted to take up. In this post, let's discuss why enrolling for IT Training is crucial for you and how it will boost your career.
WHY INDUSTRIAL EXPOSURE IS IMPORTANT FOR YOUR CAREER
IT industry is dynamic in nature. With technology changing at a rapid pace, lots of advancement and growth can be seen in this industry. Jobs in the IT domain are also increasing and need individuals who are trained and updated with the latest technology. Here, comes the demand for Industrial online training. Learners have to keep track of all new standards of this industry. This will help them in sustaining strong competition which is a crucial part of the industry.
Nowadays almost every Engineering university has these IT Training Programas a mandatory part of their academic curriculum with the main objective of enhancing the knowledge of the students on particular latest technology without which the student's degree is just merely a degree and is not sufficient.
We all know that colleges and universities focus only on the theoretical part and no practical knowledge is given to students. Because of this, students are unable to implement theoretical things in real life. As they have not worked previously on any live project, they lack necessary corporate exposure and in the end, are unable to adjust in the corporate world. This clearly shows the importance of corporate and exposure and live project in the life of an Engineering student.
Learners who take IT training program gain sufficient experience through certified trainers that goes a long way in fetching high priority jobs.
Training Programs are crucial for the student's growth. It makes an excellent contribution to the individual's development which is needed in the industry. Quality education is provided in these training programs along with the real work environment of the industry. Industrial Programs offers comprehensive industry-specific knowledge of the preferred technology and this is in pace with the demands of the IT field. Thus, learners get placements in reputed organizations as soon as they finish their training and they also get a big platform for deciding their career in the future. The best part is that learners also get the chance to apply the theories that are learned through books into actual practice.
Also Read:  All About Industrial Training – It's Importance, Objectives, Outcomes, And Conclusion
LATEST TECHNOLOGY FOR INDUSTRIAL EXPOSURE
Python
Machine Learning & Deep Learning
Artificial Intelligence
Data Science
Data Analytics
SAP
SAS
Digital Marketing
Data Analysis
IOT
AutoCAD
Embedded System
CATIA & Solidworks
3D Printing
HOW JOINING CETPA WILL BOOST YOUR CAREER?
Given below are some of the benefits of our IT Training program:
Learn job-oriented skills
Hands-on training
Learn from industry experts
Work on Live Projects
Obtain Corporate Exposure
Get Certificate of Completion
Increase Value of your Resume
Enhance your technical as well as Soft skills
In today's cut-throat competition, you need to be one step ahead of your colleagues and classmates. There is absolutely no shortage of talent. Hence, you need to acquire skills that are not just in demand but also help you develop professionally. With just a degree, you may not be able to bag a job that can help you satisfy your and your parent's dreams. Best Industrial Training Institute in Delhi that adds value and gives you the edge over others is what you need.