5 Reasons To Choose Php Web Development For Business IT Solutions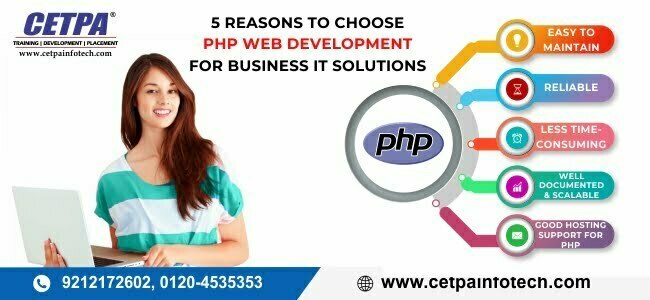 PHP has obtained huge popularity in the current times by being customizable yet simple to maintain a web designing & development platform. Being a remarkably favored server-side scripting language, PHP is being used for creating feature-rich websites having top-notch functionality. The creation of interactive, dynamic, secure, reliable and effective web pages offers multifarious advantages.
A well-designed and maintained website is the need of the hour. In order to develop websites that boost visibility and help achieve business goals, you need to be a proficient web developer, for which you can join PHP Training in Delhi.The clean coding structure and compelling codes have created PHP the favored language for web applications that run successfully on the web.
PHP comes with an ample number of benefits which not only save the overall web development time and money but also offer an ease. Let's discuss the top 5 reasons which indicate that selecting PHP for the web development is the correct approach.
5 Reasons To Choose Php Web Development For Business IT Solutions:
Easy to maintain
Reliable
Less time-consuming
Well documented and scalable
Good hosting support for PHP
Reliable:
PHP offers a strong and secure development that provides your website function without any bottlenecks or hiccups.  With its error handling module, extended support for Object-Oriented Programming, MySQL extensions, data handling through iterators, compatibility with IIS and Apache, PHP has certainly been amongst the favorites, when it comes to web development.
Because it is platform-independent, it runs on most of the platforms that make it a perfect choice for web development.
Less Time-Consuming:
Development in PHP consumes less time, because of the code reusability. Since PHP supports Object-Oriented Programming, it makes some sections of code reusable. As the time spent is less at the time of web development in PHP, the ROI (return of investment) happens to be more, as you can make a quicker launch of your online portal. 
Well Documented And Scalable:
PHP is a well-documented programming language, which provides better choices to the developers for understanding and references that they can use throughout the development process, making it more effective.
Apart from that, PHP is extremely scalable that helps companies scale online as they develop over time. This makes PHP web development highly beneficial for businesses.
Easy to Maintain:
PHP code has a decipherable syntax, which makes it simple to change over time. Hence, maintaining and updating a PHP code is much easier. This is even more powerful because for businesses it is crucial to add the latest features for better customer engagement, and therefore to keep up with it, PHP is a good option for web development.
Good Hosting Support For PHP:
PHP is one of the most extensively accepted programming languages by the hosting providers. Most of the reliable web hosting providers support PHP as they offer web hosting services for it. These hosting packages with PHP support do not come with any additional cost apart from the normal hosting fee that consists of a domain name and infinite resource allocation. 
THE BOTTOM LINE
PHP provides a lot that makes good web development, as we have discussed in the 5 reasons above, but what makes it even more helpful is the professional team which works on it, which has enough abilities to leverage the power of PHP Web Development.
Enrolling for IT Training Company in Noida in PHP can be a solution that would help you gain the utmost benefits from the web development in PHP for your business.