How PHP Is Better Than Other Languages?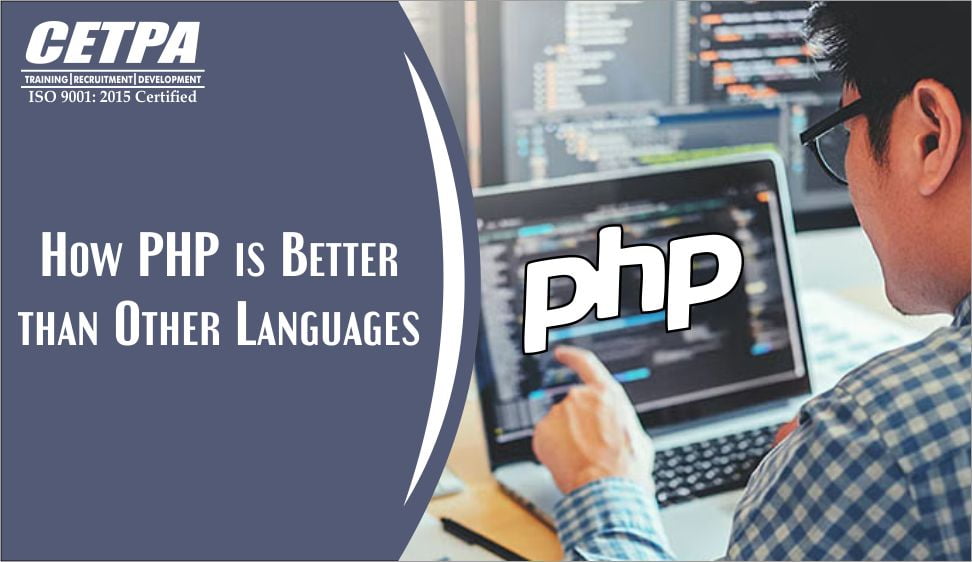 Do you know Why and How PHP is better than other languages? If not, then read this blog till the end and get to know everything about it. Even you can go for PHP Training in Noida. 
PHP (Hypertext preprocessor) is one of the well-known developer languages that is specially used to create websites and applications. PHP is a backend programming language that is open source and is completely related to the server-side scripting language. 
In fact, it has an extended range of functionalities, lots of libraries, and proper community support for all the developers. It has already its name in the market and in earlier times also, more than 80% of developers used PHP. 
That's the main reason, we are going to tell you – How PHP is better than other languages?
So, let's start with it. 
Why PHP is Better Than Other Languages?
Flexible to Understand : When we compare PHP with other programming languages, we find that it is easy to learn and understand. It is one of the earliest languages ​​which has proper syntax and well-organized libraries. In fact, all the commands used in it are simple enough for developers to understand and emphasize what they are doing.
Proper Integration : It is possible for developers to use the PHP language on a number of online platforms such as LINUX, UNIX, Windows, and others. Compared to other languages, we can say that the integration of PHP can be done properly and does not require much money and effort. In fact, it has the potential to work with other languages ​​such as MongoDB, Pusher, and others.
Better Control and Management: Using PHP Developer will make it possible for developers to have complete control over the code of websites or applications. Honestly, PHP code is more efficient to use and has the ability to add or mix HTML tags to make things more interactive.
Better Stability : There is no doubt that PHP is better than any other programming language and can be used to write code for multiple websites or applications. Furthermore, it has the ability to generate multiple dynamic web pages for a website.
Note: Honestly, if you also want to build up your career in the development field then start learning PHP courses in Noida from one of the best institutes, CETPA Infotech. 
Other Tactics That Justifies the Same:
100% Freedom : Since PHP is an open-source language, it is possible to code in other text editors such as Notepad++ and Sublime text. However, PHP continues to be one of the leading choices for many developers and organizations. We do not require you to pay for any kind of license and hence it is free.
Solve Issues Instantly : Developers are always looking for help to solve their coding issues even when facing bigger problems. And, there is actually a huge community of PHP developers, and whenever a new problem arises, there are professional minds who can bring different ideas to solve these issues.
Also Read: What are the future scopes and Career Opportunities for a PHP developer?
Conclusion
In conclusion, hope you understand – How PHP better than other languages? We had given many viewpoints which give a proper statement and show that it is correct that PHP is better. However, the PHP scripting language has an extensive community and there are a lot of resources, libraries, frameworks, and other functionalities that can make things more clear in the market.