Developing Soft Skills Through Summer Training: Communication, Leadership, and Teamwork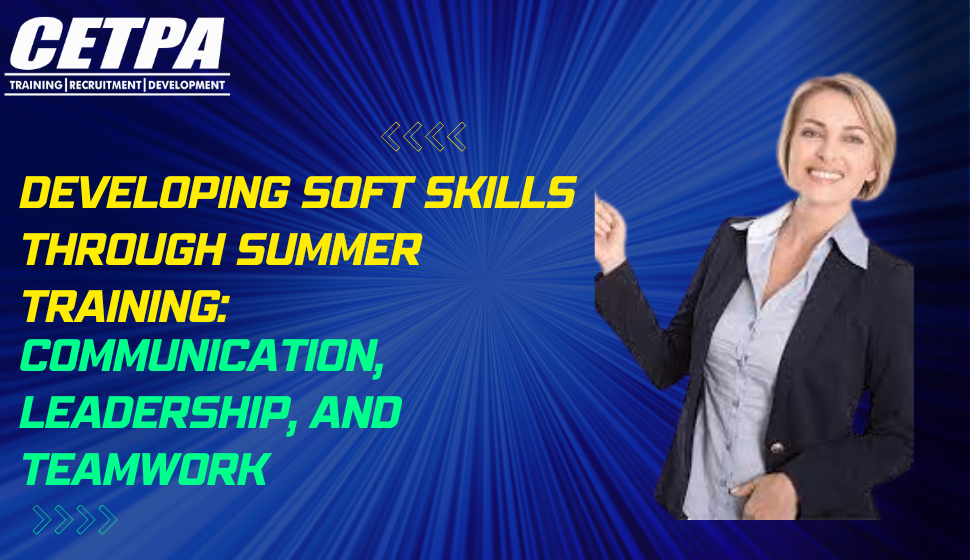 Author Robert Greene says that the future belongs to those who learn more skills and combine them in creative ways.
Any Skill that defines your trait and/or behaviour is a soft skill. Communication Skills, Leadership Skills, and Teamwork have vital roles to play among others. These are the traits each employer looks for while hiring every candidate. These skills in your resume put a positive impression about you on the employer. So, the moment they look at your resume, they know you could be the best match for the profile. This holds if you fit in the technical role as well. So, looking for a job, and find yourself stuck due to a lack of soft skills? It is time to groom yourself. Do join this Summer Training Program for Soft Skills and prepare yourself for the industry.
Communication, Leadership, and Teamwork
Communication, Leadership, and Teamwork are the strongest pillars of Soft Skills when it comes to your professional level. Let us figure out each one of them in detail:
Communication:
Soft Skills are associated with the professional you are, whether a doctor, teacher, engineer, pilot, manager, airhostess or whatsoever. You need to be around, communicate with and work together with people. Therefore, to understand it better, the term "essential skills" has been coined for soft skills which is probably more apt.
Paul J Meyer finds that Communication is such a human connection that it becomes key to personal and career success.
Communication skills are those vital soft skills that can have a great impact in all areas of life. Teamwork can only be possible in a collaborative environment. So to build up teamwork skills you must have impressive communication skills.
Being an Effective Listener
To be an effective communicator, you need to be a great listener because communication is a mutual skill. You can only respond if you have listened effectively. If you are not a good listener, your response can go haywire.
Non-Verbal Communication                          
So much can be communicated without uttering a word. It is rightly said that actions are considered louder than words. So, to be aware of what you convey through the body, you need to learn the art, the art of communication.
There are many such sub-skills to improve your Communication, which can be learned through training. This Summer Training in Noida is the best place where you can improve your Communication Skills.
Leadership:
You can be a good boss, but to become a good leader is difficult. Yes, you understood it right. There is a great difference between being a boss and being a leader. A good boss orders and wants them to be immediately put into practice. On the other hand, a good leader takes the entire team along. The leadership skills include Strategic Thinking, Planning and Delivery, People Management, Change Management, Communication, Persuasion, and Influencing. Jack Welch, former GE chairman has rightly said that before you become a leader, success is all about growing yourself.  Further, if you become a leader, success is all about growing others. The Summer Online Training at CETPA gives you the best chance to enhance your leadership skills.
Teamwork
Hellen Keller finds that if alone, we can do so little; while together, we can do so much.
The term itself denotes its meaning. Collaborating with your team to work is teamwork. Teamwork provides you with high levels of performance than individual work. Every individual comes with a different stratum of society, different backgrounds, and different emotions, to name a few challenges. So, collaboration at work or teamwork may give them a sense of belonging. It boosts their energy levels for work performance. If the team is organized well based on skills and potential, the idea of teamwork is great in the workplace.
Hence said, it is necessary to understand that Communication, Leadership, and Teamwork are pivotal skills. The growth of both the employee and the organization revolves around them.  Your communication skills will lay a foundation stone for success as a member and as a leader. It gives you confidence in yourself and wins you an inspiration for the trust of others.
Also Read: Advantages Of 6 Weeks Summer Industrial Training Courses 
To Sum Up
If you are still struggling for the right job? Do you understand that your lack of soft skills is the cause, this is the time to boost yourself? So, do not miss the chance. Enhance your skills for a dazzling career and get yourself to be the attraction point for employers. This Summer Training in Delhi gives you ample opportunities to groom your Soft Skills and be ready for employment.