5 SEO Trends Every Entrepreneur Needs To Know For 2018!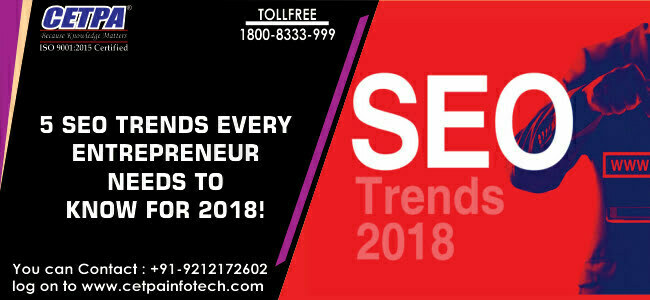 SEO helps you to get visibility, boosts your brand and lends your business the validity it needs to achieve. SEO drives the traffic of paid sources and wins through its search engine result pages. SEO rules keep on changing every year. You can remain updated about SEO by joining SEO Training. You need always to update your search engine with quality contents to maintain a chain of traffic in your pages. This year SEO is getting faster and smarter, not only websites are optimized for search engines but it is made according to the needs of viewers.
Here are some of the SEO Trends which every Entrepreneur Needs to Know for 2018-
Go For Right Keywords
The first step in formulating the right SEO strategy is to determine the proper keyword. Many times SEO campaigns fail because companies focus on keywords that don't get enough traffic or are too broad or are too competitive to compete for. You can use analytics to narrow down the best keyword for your organization and website.
Grow Your Website And Keep It Updated
You should continually improve the content of your website, growing the amount and quality of relevant and resources web pages if you want your search engine rankings to improve. You can insert tools, resources, and informative content to help visitors understand how to use your site to educate themselves and understand their options.
Go After Quality Links
You can also increase the website on your website by using some quality Inbound Links. Inbound links are generated when other websites link back to your website as a relevant resource in support of their content. The best example to do this is to go for guest blog articles. By incorporating a properly placed hyperlink back to your website you gain the quality inbound link that will drive better search engine rankings.
Optimize Your Twitter Presence
Optimizing your Twitter presence can also help you to get on the top of Google. One major change to the SERP (Search Engine Results Page) in the last few years has been the introduction of tweets.
Write Blogs
Regularly adding unique, relevant content to a blog on your site will give you the best chance of attracting search traffic. If possible, keep your blog on your business site's root domain (e.g., www.yoursite.com/blog) instead on a separate domain.