5 Top Job Profiles In Artificial Intelligence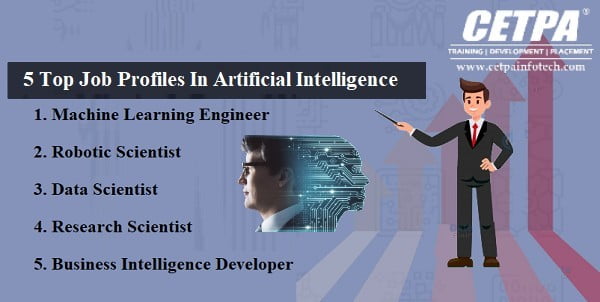 In recent years, Artificial Intelligence (AI) has been gaining popularity among technical youth. From self-driving cars to robots serving food in restaurants, these uses of AI can be seen in our daily lives. The main aim of AI technology is to develop intelligent systems and software based on how human minds learn, think, solve, and decide a problem. It learns through experience and allows machines to act and perform human-like functions.
If you're looking for career options in an emerging field like AI, then there are the top five job profiles in artificial intelligence.
1. Machine Learning Engineer
Machine learning engineers is one of the most preferable job profiles in AI. If you also want to get this job profile then you must possess solid software skills, knowledge of utilizing natural language processing while working with gigantic data sets, be able to apply predictive models, agile practices, software development methodology, and experience of modern software development tools right from IDEs like IntelliJ and Eclipse.
You can join an online Artificial Intelligence course for correct guidance in this field.
Average Salary: $121,106 (Glassdoor)
2. Robotic Scientist
Robots can compute jobs, but robots require humans to ensure that they are working in the right direction. Robotic science is used for different functions from healthcare, space exploration, security, and in different scientific fields. The primary function of Robotic Scientists is to develop robots or mechanical devices that can perform jobs with directions from humans. The necessary skills that a Robotic Scientist can possess is collaborating with other specialists, manipulating and writing computer programs, and developing prototypes.
Average Salary: $83,241 (Glassdoor)
3. Data Scientist
To gain insights beyond statistical analysis, data scientists analyze, collect, and interpret a huge amount of data by using predictive analytics and machine learning. Data Scientists should have expertise in Big Data tools and platforms, including Pig, Hadoop, Hive, MapReduce, and Spark. Data scientists are proficient in programming languages, like Python, structured query language (SQL), Perl, and Scala with statistical computing languages.
Average Salary: $117,345 (Glassdoor)
Also Read: Artificial Intelligence And Its Influence On Jobs
4. Research Scientist
Computational statistics, Machine learning, and applied mathematics are the expertise areas of Research scientists. In particular, these areas include graphical models, graphical models, deep learning, reinforcement learning, natural language processing, computer perception, and data representation, data representation, computer perception, natural language processing, and reinforcement learning.
Average Salary: $83,490 (Glassdoor)
5. Business Intelligence Developer
Business intelligence developers are in high demand. The main focus of a Business Intelligence Developer is to analyze and compute complex data and look for the current market and business trends, thereby strengthening the productivity and profitability of the company. They have good problem-solving and communication skills. They are responsible for modeling, designing, developing, and maintaining data for extensive, complex, and highly accessible cloud-based data platforms.
Average Salary: $90,430 (Glassdoor)
Conclusion
Those who are planning to pursue a career in the Artificial Intelligence field must start from today by expertizing themselves with the knowledge, tools, and technologies needed to execute the job successfully. You can obtain a certification of AI with the right knowledge and guidance through the Artificial Intelligence training institute in Noida with the opportunities to work on live projects.