6 Career Options after doing Digital Marketing Course from CETPA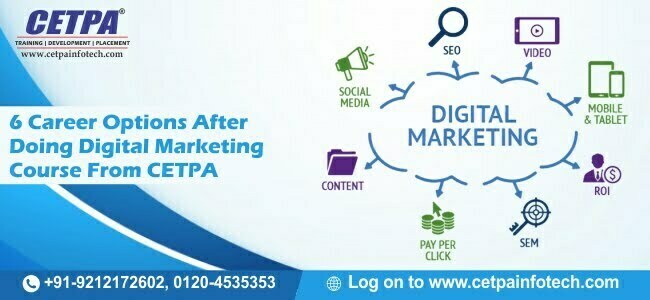 Digital Marketing is an attractive feature for nearly every market to advance their business. As a result, the IT industry is in high-demand of intelligent and brightly productive talents. Hence, opting for a career as a digital marketer is achieving popularity among students. To learn the strategies and techniques used by experts in digital marketing, you can join Digital Marketing Classes at CETPA. This will not only help you in clearing the basics but also master the advanced topic.
In this post, we will discuss Top 6 Career Options you can go for after completing your Training from CETPA:
SEO (Search Engine Optimization) Expert
SEO is a technique through which search engines like Google, Yahoo, Bing, and more determines which website should be listed at which position. Note that, higher your search engine ranking is, the more are the chances of your website catching sight and attention of a vast audience.
SEO expert help the website owners to get immense traffic for free if they have brilliant search engine optimization skills. This is what has led to the creation of plenty of opportunities for all the job seekers willing to learn SEO skills out there.
Digital Marketing Manager
In order to get a post of a digital marketing manager in any reputed and renowned organization, you would need to get at least five years of experience along with a valid certification, which you can get after getting trained in a famous Digital Marketing Training in Noida. With a sudden expansion in this sector, the requirement of a digital marketing manager has boomed.
Social Media Marketing Specialist
If you're looking out for Digital Marketing jobs you would be amazed by knowing how celebrities could generate a considerable amount of income by advertising multiple brands through their social media accounts. Today, as people have started promoting content through Instagram, Twitter, and Facebook, the requirement of a social media marketing expert have increased.
Content Marketing Expert
Are you searching for the best freelance digital marketing jobs out there? Fret not! Content marketing is one of the most demanded tasks that have got the attention of thousands of writers. Ever wondered why content marketing is considered to be one of the most sought-after jobs? Though it isn't a piece of cake, it isn't rocket science as well! All that you need to do is create a compelling, informative, engaging, and a user-friendly content to promote your brand and attract the target audience.
Must Know: 5 Ways to Grow Your Creativity Using Digital Marketing
Inbound Marketing Expert
The job of inbound marketers is somewhat similar to that of a content specialist which means both the jobs share some common traits. The role of an individual at this post includes handling the communication at every single phase, drip marketing, conversion rate optimization, and a lot more. The only difference between content marketing and the inbounding is: while the later build up strategies focusing on content marketing, the former has to execute the same.
Learn Digital Marketing at CETPA
Now that you know there is an opportunity in digital marketing, it is time to prepare yourself for becoming a digital marketing expert. Join Digital Marketing Classes and start your journey now!