Things About IOS Course Which You Have To Experience It Yourself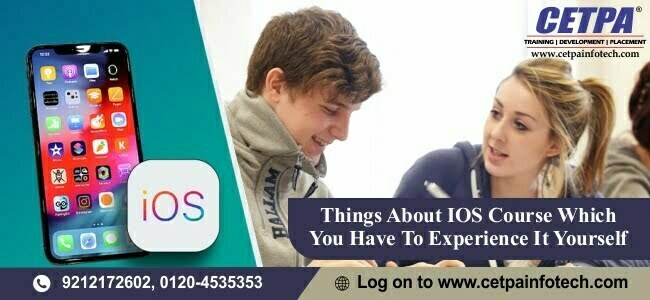 Mobile app development is a trending skill. With more and more people going for it, there is an urgent requirement to choose the most in-demand mobile technology. Viewing the reputation and demand for Apple's iPhone, iPod, and iPad, it is safe to say that a job in iOS Development is a good risk. Experienced plus entry-level experts are joining the realm of iOS Development as there are enormous job opportunities that provide excellent pay package and even better career growth.
Let's discuss some of the crucial points regarding iOS Course:
iOS Course: User friendly for Beginners
For those with little or no experience in programming, beginning a career in iOS development can be difficult. You can join IOS Training course in Delhi for the same. Other than that, below given tips will help you in learning iOS easily.
Master iOS development– There are various online resources and online courses that can aid you in your learning.
Start creating apps right away– The excellent way to practice what you learnt is by creating applications. Begin by developing easy apps and make them accessible for free or at a low cost to the public so that you can get reviews and feedback.
Utilize any chance to build apps – You can enhance your reputation by creating apps for small companies at a low cost or for free. This will get you noticed for your talents.
 Skills required to make career in this field
Some of the must-have skills that will help you excel in your iOS development career is:
Capability to develop native, structurally sound software for iOS and Mac OS X platforms.
Staying up to date with modern UX/UI trends and remaining up to date on current functionality presented through Apple's SDKs.
Capability to use version control systems, project management software and develop automated testing and deployment strategies.
In order to begin your career in iOS development, you will also require the following.
An Apple computer
iPhone /iPad /iPod
Becomes a member of the iOS Developer Program
What you need to learn:
Objective C
iOS
Swift
XCode
Interface Builder
Version Control
Frameworks
TO SUM UP
There is a strong demand for iOS Developers today. It's a reality that hot jobs need even hotter skills to land a drool-worthy position. It becomes necessary to decide where to invest your time and energy for growth as a developer. And investing your time and resources in learning iOS by joining IOS Training course in Delhi is the best step forward for a lucrative career.