Is Online Ios App Development Learning Good For Career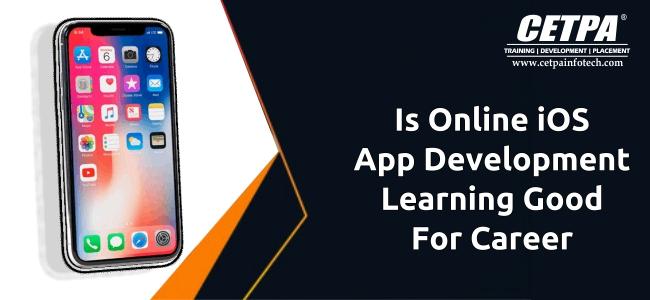 The popularity of iPhone apps has been increasing among mobile users. They are perceived to be of high quality and revenue-generating for businesses. Hence, startups and small companies searching for a fast return on their investment depend on iOS Application Development for their business. Hence, as an organization, if you are contemplating the app's creation to take your business to the next level of success, read on to learn about the various advantages of iPhone App Development.
HOW ONLINE IOS COURSE WILL HELP YOU ?
The IOS online course will help you in securing a job at any IT-based firm. According to the current mobile technology trends, each company is focused on providing dedicated applications to serve the customer needs. The presence of a customer friendly application helps easy communication between the customer and the company providing easy troubleshooting and contact means for the customer.
WHY IOS ONLINE COURSE?
IOS online class usually focuses on developing the IOS programming skills that enable a person to develop his/her own application. The course also gives enough weightage in developing the knowledge of IOS platforms for application development. With this training, it is possible for a person to develop applications for various problems that are handy as well as aesthetically beautiful.
THINGS YOU CAN LEARN FROM IOS COURSE
In today's technology driven, fast paced world, IOS Application Development will give many benefits for businesses to become more effective, enhance customer experience and to become more lucrative too. Some of the ways in which you can benefit from IOS Online course are:
Increase in Worker Productivity: In each field, competition is strong, with hundreds of businesses seeking to get a slice of the pie. If the company's business goals are joined with the mobile app, it will bring in new business like never before. This will help decrease labor costs and improve worker productivity.
IOS Apps help improves Business processes: The latest business norm is Enterprise Mobility. Mobile apps help a customer to communicate with the business while he/she is on the go. It boosts sales but decreases costs which are a win-win situation for business.
Improves Customer experience: Well-designed IOS Apps helps improve customer experience when dealing with a business. Keeping communications open with a business's target audience is a smart move which will increase business dealings.
Gives a boost to Brand Value: It enhances visibility with the millenials, Gen X as well as the Baby Boomers. One of the fundamentals of sound business is increasing brand awareness, which is achieved by Mobile Apps.
ONLINE IOS COURSE @ CETPA
CETPA, an ISO 9001:2015 certified training company also provides online training in IOS. The company is official training partner with Microsoft, Oracle, Panasonic, Autodesk, Nuvoton and Wonderware. Other highlights of this program includes:
100% Placement Assistance
Opportunity to work on live projects
Training &project certificate
Intensive course curriculum
1 year Membership Card