7 Enticing Ways to Improve Your IOS Skills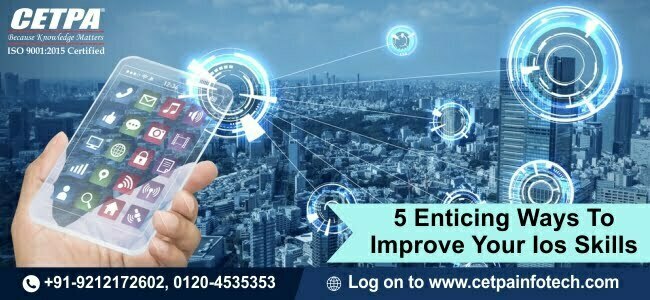 Mobile App Developer ranked near the top of just about every legitimate "hot jobs" list for the coming years. There is an incredible opportunity right now for anyone who wants to pursue a career as an iOS App Developer. The iPhone and iPad are the two most important pieces of technological hardware designed in the last twenty years, and both depend on iOS to serve as their operating system. This is the reason why iOS developers are in such great demand.
Lin this post, let's discuss some of the ways by which you can improve your IOS skills:
Build a Portfolio
A portfolio is a crucial component of your work. Hence, the primary step to becoming a professional iOS developer is to create your portfolio. It's as important as your professional reputation, keeping your tools sharp, and learning new things every day. When you interview with a potential employer or client, your portfolio can do the talking for you.
Get an iOS device
Go and buy a Mac.  By using Mac, you can master the design philosophy of Apple. Mac, iPod, and iPhone devices are also necessary to test your App.
Learn basic iOS design
The iOS app is well received by its simple, compact interface and constant operation. Apple released iOS human-computer interaction guidelines to help developers to design an App. This is a must-read tutorial for all iOS developers. For more in-depth learning, one can join the best iOS Training Center.
Learn Swift
Swift is the programming language Apple-designed especially for improving their applications.  It is a powerful and intuitive programming language for macOS, iOS, watchOS, and tvOS. This is the language of all present and future development for iOS. So you have to know about it!
Get knowledge of SCCS
SCCS stands for Source Code Control Management. It is a very important part of software development. This allows users to retrieve the original source code of the previous versions.
Always be Passionate
Learning may get boring sometime, but if you have a passion for the things that you are interested in, it would be much easier to master it. If you want to master iOS development, you must love this job first.
Keep Learning
As an iOS developer, keep learning is the only way to enhance your iOS development skills. To catch the latest trends and news of iOS development, you can read some books on iOS that can give you some inspirations and help. Otherwise, you can join iOS Training Course.
So, if you're ready to be in demand, iOS developer is a great career choice! Enroll in iOS Training now!