5 Steps To Become A Professional Ios Developer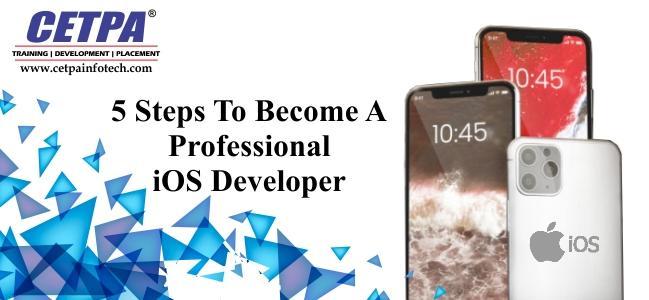 IOS app development require more than just code-generating. Very fewer people know the amount of work that is given to making and updating IOS apps.One good thing about app developer is the numerous technical skills they possess that aren't taught in the books on writing or developing codes. To be one of the ideal app developers in India, you have to constantly stay on your toes and keep learning as there are a lot of important skills which are changing continuously. You can learn these skills by joining IOS online training.
IOS Developer Coding of The App Development
Apart from that, you can read this article in which we have highlighted some of the steps to become IOS developer:
Coding Alone is crucial but not sufficient alone.
Today, we live in a world where coding is no longer as rigid as it used to be. Anyone can make an IOS app and publish it. There have been local developers. These are people can teach themselves anything associated with the introduction of the app development.
Your Mobile Application Design can and will Influence Visitor Behavior:
The Internet has completely changed the way people browse and read content. If your visitors can't scroll through your website and easily locate key information, they will leave your site. App development companies strive to develop sites that guide users to the most important information at will. Analytic tools and heat maps can help the app development company determine which links and buttons have the highest engagement so as to continually improve the user experience with trendy updates on the app. You can join IOS online training to learn how to design your app.
Understand Your Customers Need
Understand what the people around you are trying to do. Enjoy how these things work, love indenting CSS files adequately, or optimizing a rail app but always remember that it's all for a reason. Developers need to understand what the people who will use the app are saying, like the businesses, operations, and the process of running it. IOS online training with the knowledge of what users want should be able to build apps and software that add value to users.
Understand the market and how things may change over time. It gives you an idea of new technologies and the challenges seen every day. As a developer, when you suggest a great idea to a client, let it be solidly based on your budget and time frame and especially on when you know what the clients want.
Knowledge of Basic Optimization Tricks
For you to lead in the world of IOS application development, it is important that to have the knowledge of basic optimization in the Play Store. Although you can leave the research for keywords to your clients, you should have good strategies for targeting the keywords on the page.
Drawing and Writing
App developers must be competent to describe their ideas on anything like a paper or whiteboard. This is since the drawing is the most straightforward way of communicating what the stuff will be like. Indian app developers must be capable to do what it takes and show their concepts visually. People don't choose Indian app developers who simply sign, and say they know you without making you see what they understand.
CONCLUSION:
Competitors are always necessary for every business arrangement. Stay active, find your opponent, learn what they are up to and give you an edge. Take part in projects outside of work, perform additions and seek out review and feedback since the more you get examined, the better you'll understand. The mobile app development industry is undergoing a huge increase daily. If you're going to rank among the best, then you have to do what it takes to entertain your clients and end-users. Learning as much as you can and stay up-to-date will help you continue with the trend.