A Good Move For Cloud Computing Enthusiasts With AWS Online Training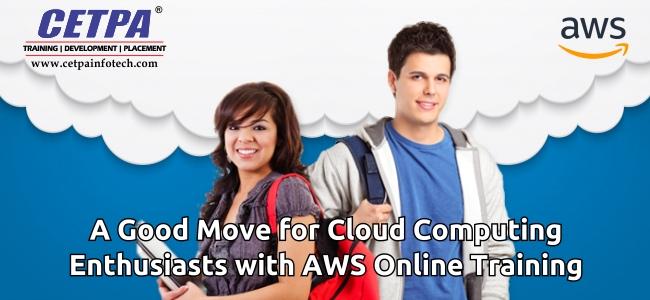 Cloud Computing most widely and popular for Amazon Web Services which is most popularly use Cloud Computing platforms that host by offering IT services which includes database, web services, computing and many more. It's a very great move for any developer or technical person to get skilled up in cloud computing with AWS.
There are many best Cloud Computing training institute in Delhi that provide Online Training with surety of Placement.
In Delhi NCR there are many institutes that provide Cloud Computing AWS Online Training in which they provide the training that start with:
Fundamentals cloud computing
Introduction to cloud storage
Virtualization
Building cloud server
Cloud deploying environments
Building a private cloud using lamp eye OS
Your organization and cloud computing
Cloud computing with titans
Cloud computing technology
Accessing the cloud
Platform as a service
Exploring the technical foundation for pass
Introduction to sales-force .com CRM and force.com platforms
Developing own application
Create custom object and relationship's
Using formula's and validation rules
Automating processes using workflow
Creating an approval process
Creating reports and dashboard
Adding programmatic logic with apex
Adding tests to your app
Building custom user interface using visual force
Software as a service
Infrastructure as a service
Deploying infrastructure as a service (IAAS)
Introduction to AWS
Managed services & databases
AWS Security
Leveraging the virtual private cloud (VPC)
Project implementation
This Online Training Technology made the Computer & IT Department very advance and also not only CS & IT Cloud Computing Online Training can be done by student of  any branch because in this students are getting trained and getting placed in MNC's and having a great career ahead. Cloud Computing is a fastest growing language and it also reveals a promising future.
In Delhi NCR there are many institutes that provide Cloud Computing Online training course for the duration of minimum 3 months and maximum 6 months. Online Training is kind of very beneficial in today's busy life in which we can save our travel time and give that to learning as in the market Cloud Computing has a very good reputation especially for Computer & IT deptt.
In today's advance world in which we have lots of options and platforms for learning different technologies student's already have lots of videos on YouTube and free tutorials in most of technical institute's websites.
Read More: AWS V/S Azure – Which One's Is The Right For Your Career In Cloud Computing?
Why most of us opt Online Training?
Because due to people are very busy and having lack of time they opt Cloud Computing Online Training , and also because it has many advantages i.e. Accessibility, Improved pedagogy, Enhancing Collaboration, Cost Effective and most important it is suitable for idealistic workforce. Online Training also reduces your travel time. In Noida only there are lots of Technical Institutes which provides Online training with placement also. The Online Course duration of minimum of 3 months and maximum of 6 months is mandatory if someone want to learn Cloud Computing with a great knowledge of programming.