How Android 8.0 Oreo is better than Android 7.0 Nougat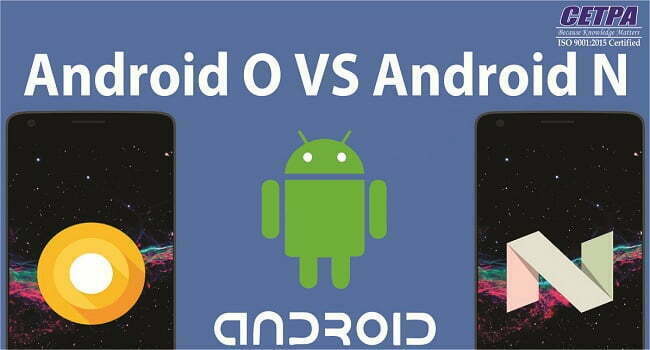 Android has become a crucial thing for businesses today since android phones have spread all around the world in no time. Android is the most popular mobile phone technology in use today. The popularity of Android phones creates demand for its developers too and hence in the current Android world, finest opportunities are waiting ahead for the developers. In order to learn Android development one needs to be trained in its fundamentals and methodologies and hence proper Android training is necessary. There are many institutes which provided Android training courses.
Recently, Android launched its latest version, Oreo, and it's already in use on Google phones like Pixel or Nexus 5X. Thousands of Android phones are bound to receive the update in late 2017 or in early 2018. In this blog, we will see how Android Oreo is better than Nougat on the basis of different factors-
PERFORMANCE
Android 8.0 will improve the performance of your phone. The system is a lot faster to boot up, so it takes a lot less time for apps to open when compared with Android 7.0 Nougat. Oreo also provides a new feature called 'per app disk space quota'. This enables the system to automatically delete cached file from apps when they start exceeding their quota, resulting in more disk space for you.
BATTERY LIFE
Oreo also provides its users with background execution limits which will stop the app from using background services and will instead force it to use scheduled jobs, which launch periodically and then quit, preserving your battery more efficiently. It improves your phone's battery life when compared with Nougat.
NOTIFICATIONS
Oreo now gives you the possibility to snooze notifications for a certain amount of time simply by swiping left. This also gives you access to notification settings, which enables you to configure your notifications.

Notification dots are another new feature coming with Oreo: dots, which resemble IOS notification numbers, show up on your apps to indicate you have unread notifications.
AUDIO
New features coming with Oreo will improve your audio experience. 'Volume Shaper' introduces options to 'fade-in'/'fade- out' or 'cross-fade' sound, which will facilitate audio transitions. Oreo also offers better playback options for audio and video. You will be able to manually select a Bluetooth codec.
SECURITY
Oreo is made on Project Treble, which enhances your phone's overall security and also enables for faster updates. Oreo also offers Google Play protect scans which help keep your apps safer.
USER FRIENDLY
Oreo also comes with many features designed to simplify user experience. It now offers auto fill, which will make it a lot easier for you to fill forms or login to websites as it will remember your information. Go to "Settings – System – Language & Input – Advanced – Auto fill" to activate it.

Adaptive icons will also be available with Oreo, meaning that you will have access to different icon shapes for your apps and will be able to customize them.

Picture in Picture is another new feature which will improve your user experience.