Benefits of Cloud Computing for Web App Development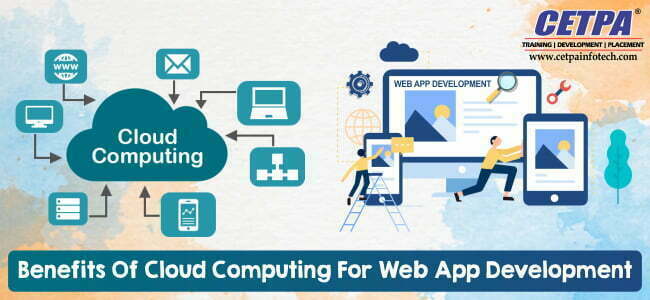 If you talk about cloud computing then it has a great role in web app development and it is not something that you can take lightly. According to the surveys, with the help of cloud computing companies reach a wider portion of the market. The benefits of Cloud Computing allow companies, developers, and users to manage their technological resources. Let's have a deeper glance on the benefits of Cloud Computing for Web App Development–
1. Scalability
Scalability is the key to the success of any type of software. If you want that your software handles a large number of users then your software must be highly scalable. Cloud computing services provide a relevant platform where any type of application can be scaled easily (either by increasing hardware power or by increasing the number of servers). You can learn this technology through a good online Cloud Computing course.
2. Cost-Effective
Companies want that the overall cost of product development should be less. With the Cloud Computing systems, the cost of any product reduces as there are no upfront investments like investments on physical devices like on servers and data centers are not required. In addition to it if you go with cloud computing then you have to pay for the amount of usage (or you can say that it is based on pay-as-you-go). Hence small businesses also get the advantage of it. Through this, companies and users will be able to develop the product at a low cost. So, what are you waiting for? Go ahead and join the best Cloud Computing online course and take the advantage of Cloud Computing.
3. Data Security
Cloud Computing provides good security (such as data encryption and automation) to its users. Cloud computing protect your data through data security from loss and inappropriate access. Cloud computing gives its users different policies, controls, and technologies to improve the security of an application from potential threats. So, cloud computing prevents your data from data theft or losses.
3. Immediate Supply of Resources
For web-app applications, developers needed a lot of resources that are pre-stored in the cloud servers. So, it is good to use pre-stored resources than to buy them from various IT centers. If you are using the cloud then you won't get only one choice for a particular resource. You have multiple options for considering a particular resource for web app development? You learn cloud computing through Cloud Computing online training.
4. Multiple Service Models
Cloud computing gives you various service models and that provides a wider platform for the creation of web app development. The services are-
1- Software as a Service (or SaaS)
2- Infrastructure as a Service (or IaaS)
3- Platform as a Service (or PaaS).
You can learn about all these services through the best online cloud computing course.
Also Read: Kick-Start Your Dream Career In Cloud Computing
5. GEOGRAPHICAL EXPANSION
If you are not using a cloud network and connected with the local data centers then your web app limited to a particular location. But if you are using the cloud network, then your business is spread across the globe as you are connected to all the data centers of the globe. As a result, your customer's scope is from all over the world and not depends on geographical area.
Conclusion
Due to the above benefits of cloud computing services, developers and companies using cloud computing for web app development. The cloud systems have provided many benefits like good quality of websites and applications, applications with Lambda functions, and high geographical reach. If you want to develop such applications that are globally reachable then you can enroll in online cloud computing training.