IOT Training Helps To Secure Your Career And its Features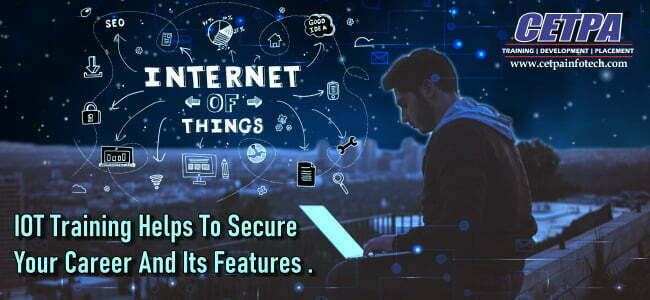 IoT is one of the most exciting domains to work in currently. With all the marvelous innovations occurring right now in agriculture, energy consumption, home automation, driverless cars, and more around the world, you can live your most exciting sci-fi ideas and thoughts when you have hands-on exposure and experience on IOT and its allied devices. You can create from scratch or prepare algorithms or cloud architectures that would complement your aims. Tons of corporations and good investors are awaiting breakthrough innovations in tech and you could have the perfect idea to solve a particular issue. Furthermore, with India jumping into a digital phase, IOT is taking a large amount of popularity for getting into jobs in IOT. No specific degree required, you can get IOT Online Training easily; however, the vast majority of them request Engineering knowledge and a basic understanding of electronics and microprocessors. By doing IOT Online Courses one can have a solid hold on in the IOT domain and in cloud computing.
 Features
The NodeMCU board is a ground-breaking solution for program chips and part of the Internet of Things (IOT). Additionally, it supports a few languages, therefore, it is simple to transfer programs from any PC to a micro USB port.
Raspberry Pi can be utilized as a gateway. And to transmit sensor data to the Google cloud. You can learn raspberry pi in IOT Online Courses. There is no maximum point on how much can be sent by various Ps in a single framework. Further, Cloud side services safely get through a program interface.
IOT protocols are methods of communication that ensure protect security to the information being exchanged between associated devices and communication technologies.
Cloud computing and IOT certification have a complementary relationship, and you can do IOT training and get a certification provided by many IOT online Training institutes.  This certification produces huge amounts of info while cloud computing aids in offering a pathway for that data to attain its goal and increase the efficiency.
Applications
Smart homes and buildings
In a connected smart home, we can simply walk into a room and sensors will on the lights to our favored ambiance level. Some simple home automation can be done by anyone IOT Online Training can help you in this pandemic. Moreover, we can set the climate control system to work at a specific temperature, play the preferred music and even train the kitchen item to begin preparing a cup of coffee.
The Internet of Things permits the setting up of a system of interconnected devices. It can create or exchange information inside a single system.
In the Automobile division, drive our future to autonomous and intelligent vehicles. The introduction of high-speed mobile frameworks, 5G and beyond will check this development through faster data transfers, better communication, and response times.
Production flow monitoring is a method in assembling because these results include maybe overall machine work and setting a specific part of the machine.
IOT interfaces individuals and governments to smart city solutions with the creation of Smart Grid technology. It is made to enhance the older architecture. Traffic signs, parking spots, street warnings, and early finding of a power failure because of weather and earthquakes.
Current Scenario
IOT devices will reach 75 billion by 2025 as per industrial trends.
The platform for making long-range communication as it is cheaper and fast.
IOT Online Courses in this pandemic have the highest demand in the market and it can make the system centralized and automated.
Integration of IOT Training with AI and Machine Learning makes the system self-learning.
Furthermore, automated factories would remove the need for human interference and cut the cost of operations spread over the period.
When artificial intelligence is applied to IOT-enabled devices. We can expect a new generation of highly intelligent robots. It will perform tasks on different platforms. To master the skills in Artificial intelligence , you can join certified institute which provide Best artificial intelligence training in Delhi available in market.
Conclusion
The Internet of Things will bring a wide change in our lives and has offered job openings. Researchers have concluded that in the upcoming couple of years from now, more than 20.4 billion IOT gadgets will be connected. This simply proves that there are IOT career possibilities because of the increasing demand in every sector. CETPA INFOTECH provides you with IOT online Course and IOT Training in Noida as well.  You can join the certified institute and become an expert in the IOT domain. Give shape to your career.