Top 7 IOT Trends That Every Professionals Must Know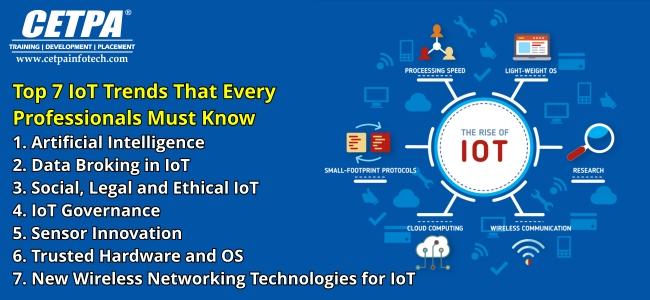 The Internet of Things has been around for quite a few years but it surfaced as a mainstream technology just a couple of years ago. However, it has come a long way. Today, it is used extensively as a part of several applications and uses cases across industries. With 2021 just around the corner, it is time to assess what lies ahead so that you can be ready ahead of the time. Whether you are planning to invest in an automation application or IoT Online certification course, you must have clear expectations about what you really want from the solution.
In this blog, we will discuss the top IOT trends for 2021. But first, let us understand the meaning of IoT.
WHAT IS INTERNET OF THINGS?
Internet of Things (IoT) refers to an ecosystem of connected physical objects or "things" that are accessible through the internet. These connected things could range from a person using a wearable device to a home automation system to a connected automobile with built-in-sensors
WHY IOT IS BECOMING IMPORTANT?
IoT platforms are powerful when it comes to gathering data, analyzing it, and leveraging the insights for making better decisions for the business. This can bring down the operational costs, facilitate predictive maintenance, and reduce the possibility of errors. Overall, this can lead to enhancement of operations to the extent that it boosts productivity and drives proactive decisions that have a positive impact on the business. If you are thinking of learning and investing in this domain, joining IOT Online Training is an excellent option.
 TRENDS IN IOT
Businesses are keen on identifying technologies that will lead to innovation. Given below are top IoT trends that will drive business growth & innovation.
1. Artificial Intelligence:
A system can complete a set of tasks and learn from data using Artificial intelligence. In an Artificial Intelligence (AI) assisted IoT system devices can analyze data and make decisions and act on the data without any human involvement.
2. Data Broking in IoT:
The concept of evaluating and accounting for data or information as an asset is called Infonomics and aggregation of data from different sources is called Data Broking. You can learn other most promising career skills in IOT here.
3. Social, Legal and Ethical IoT:
Does IoT deployment have some key concerns – How secure are the devices? How data is used? Social, Legal, and Ethical issues of IoT have to be addressed and resolved for better Security and Privacy.
4. IoT Governance:
IoT solution governance can be viewed as Enterprise Architecture(EA), Application of business governance, IT governance to the Internet of Things. IoT governance focuses on the lifecycle of IoT devices, on data management of the IoT solution and IoT applications in an organization. IoT governance defines the changes to concepts and principles to deliver on the stated business goals.
5. Sensor Innovation:
IoT Sensors need to consume low power, low cost for economical widespread deployment, compactness, and robustness, diagnostics, identification, validation, calibration has to be done by themselves with minimal maintenance requirements.
6. Trusted Hardware and OS:
Trusted Hardware and OS is a very important factor in an IoT system. IoT systems are not maintained like regular computers, once they are deployed, minimal changes and configuration is expected to be done from the user side. So, the top priorities for embedded systems and specifically with industrial systems, are reliability, safety, efficiency, and productivity.
7. New Wireless Networking Technologies for IoT:
There is no IoT without networking, Connecting IoT devices is not the same as connecting regular computers, phones, and tablets. To connect devices that run on batteries and have low processing power, Networks like LPWANs (Low Power Wide Area Networks) have emerged. Using Technologies like LoRa, NB-IoT, LTE-M almost every sensor can be connected due to their long-range (ranges in 1000s of km), consumes very low energy, and therefore are better suited for IoT applications that send sensor data which will be less in size and doesn't require high bandwidth.
THE BOTTOM LINE
With the amazing offerings it brings for businesses, IoT has the potential to change them and drive immense growth. In fact, it can change the future and make businesses more empowered than ever. If you are still thinking about investing in technology, you should do it sooner rather than later. The best way is to join our IOT Online Training and become a master in this domain.