Benefits of Summer Training For Engineering Students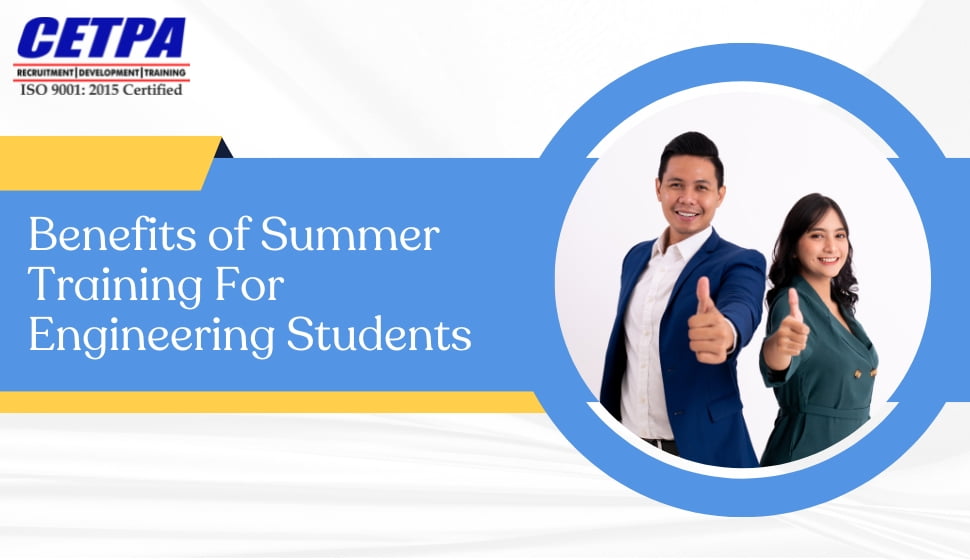 College students may be able to learn new skills and gain some real-world experience through summer training programs. During these summer training programs, new and inexperienced college students can gain firsthand knowledge. They get what it's really like to work in a certain job or career field. 
Such training programs can be very helpful for college students who are preparing to launch their careers. After finishing their studies because they will receive knowledge and abilities that will help them advance in their professional careers.
In the current competitive work market, merely having a college degree is not enough to convince employers. You can choose you over a big number of rivals who might be more qualified or talented to land the job. Hence, to stand out in the fierce competition of today, we need to have unique qualities and additional skills that set us apart from others. Hence, if you have some sort of real-world work experience and skills through a summer training in Delhi, you will have a better chance of beating out the competition when applying for jobs.
Some Advantages of Joining Summer Training for IT Students
Students studying computer science and information technology can most benefit from hands-on experience before starting their career search. In reality, because it prepares you for the workforce, industrial training is now necessary. It generally aids in the development of leadership and oversight abilities. Additionally, it develops presentations for the business and offers fresh perspectives. Of course, fresh ideas for the workplace are also welcome. This is why you must train over the summer.
Project training is a component of summer training, along with a focus on thoroughly going over the various technologies. In general, the summer training programs are designed to enhance student skills and teach professionalism. 
Increase Knowledge and Skills: Summer training is important for all first-, second-, and third-year engineering students due to the fierce rivalry for employment. Simply put, today's academic success is pointless without the ability to construct LIVE Projects, an industry-standard capability. Also, summer training offers you the chance to learn them.
Add Value and Experience in Your Resume: An experience-based resume is valued by employers today. more than a brand-new résumé lacking any work experience. And summer training is the ideal approach to advance your career and build experience.
Students gain the ideal knowledge and experience and can immediately apply in their CVs and resumes. They can then easily compile a list of all the tasks and assignments they finished during that time. Then submit applications for the positions they want, get called for interviews, and eventually land their dream employment.
Increase Opportunities: You must be wondering how a summer internship might relate to job chances. Beginning with the ability to pursue the job path they have chosen for themselves, summer training is available to students and newcomers. How?
For CSE students, summer training functions as a testing session that enables them to select their intended fields from a variety of options. Consider learning a programming language like Python or Java and concentrating on how it will be used in the present market.
Industry Experience: A "finer version" of industry training would be summer training. It is the most effective strategy to close the gap between what employers want and what students are learning in the classroom.
Students have the opportunity to use their classroom learning for the company throughout the summer training program. Mentors guide, prepare, and then offer suggestions to help students develop their skills as they build projects.
Also Read: 6 Weeks Live Project Summer Training Courses
Who Can Join Summer training in Noida?
Anyone from any college or institute or even a professional can join Summer online training with CETPA Infotech. The trainers here have industrial knowledge that can help candidates to stay ahead and aware of technologies with proper updation. 
Attend a summer training program that gives you a hands-on learning experience and an integrated learning environment, giving your career a boost.
During the 6 Weeks of Summer Internship Training for IT Students/ 6 Weeks of Industrial Training. You improve your skills while working on real projects which better equips you to handle interviews. You are also given instructions on how to create side projects to send to your college or university during your summer internship training at CETPA Infotech Noida. 
Conclusion 
College students may benefit from training chances offered over the summer months to help them gain insight into possible career paths. These programs can help students better grasp their abilities, competencies, and interests.
Through the programs, students may also get support in choosing their ideal job paths. Through the programs, students can also get help developing a plan to achieve their desired career outcomes.
 You can join Summer Training in Noida with CETPA Infotech, just connect with our experts and book your slot.